Description
The '71 Datsun Bluebird 510 Wagon is a station wagon from the Datsun 510 series. The Datsun 510 was a series of the Datsun Bluebird made in Japan from 1968 to 1973, and offered outside the U.S. and Canada as the Datsun 1600 and Nissan Bluebird in Japan. The 510, or 'Poor Man's BMW' as it was nicknamed for it's BMW-like styling was powered by the Hitachi downdraft carbureted 1.6L L-series I4 engine, with an advertised gross power of 96 hp (72 kW), and a claimed top speed of 100 mph (161 km/h).
A wagon version of the classic Datsun Bluebird 510 sedan, the Bluebird wagon offers more cargo space, bullet-style side-view mirrors and a much roomier passenger compartment than its sedan counterpart. A real 1970s classic, built to last!
Several releases of the '71 Datsun Bluebird 510 Wagon exist with a variation in the casting where they come with or without a mesh texture in the grille.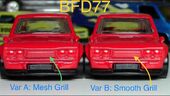 Versions
The '71 Datsun Bluebird 510 Wagon has come out in the following 1/64 scale versions:
Col #
Year
Series
Color
Tampo
Base Color / Type
Window Color
Interior Color
Wheel Type
Toy #
Country
Notes / Variations
Photo
#
2013
HW Boulevard
Pale Turquoise
Silver grill, tampoed taillights and side markers
Pale Turquoise
/
Metal
Tinted (Black)
Black
Chrome & Red RR5SP
X8236
Malaysia
Base code(s): E46
206
/
250
2014
HW Workshop Garage
6/10
Red
White stripes and race deco on sides, '0' on sides
Black
/
Plastic
Clear
Black
Chrome Rim Black MC5
BFD77
Malaysia
New in Mainline
Base code(s): G29, G33
mesh or smooth grill
206
/
250
2014
HW Workshop Garage
6/10
Spectraflame Red
White stripes and race deco on sides, '0' on sides and hood
Black
/
Plastic
Clear
Black
Chrome Rim Black RR8SP
BFF31
Malaysia
Super Treasure Hunt
New in Mainline
Base code(s): G26
202
/
250
2015
HW Workshop Night Burnerz
7/10
Pearl Dark Yellow
Red and White stripes, Black '71' on sides and hood, White stripes on roof
Chrome
/
Plastic
Tinted (Blue)
Gray
White Rim Black OH5SP
CFK96
Malaysia
Base code(s): H02, H03, H04, H05
202
/
250
2015
HW Workshop Night Burnerz
7/10
Black
Green and Pale Yellow stripes, '71' on sides and hood, Pale Yellow stripes on roof
Chrome
/
Plastic
Tinted (Black)
Gray
Gray OH5SP
DHY02
Malaysia
Kmart Excl: Nov 07, 2015
Base code(s): H31
1
/
4
2015
29th Annual Collectors Convention
Metalflake Black
Orange stripes on sides and hood, Convention logo on roof
Unpainted
/
Metal
Clear
Black
Chrome Rim Orange RR8SP
DJX34
Thailand
Base code(s):
1
/
5
2016
Car Culture: Japan Historics
Black
'0' on hood, 'Advan', 'GReddy', JCCS logo and JNC logo on sides
Unpainted
/
Metal
Tinted (Black)
Red
Red Rim Black C4SPRR
DJF81
Thailand
Base code(s): H52, J09
277
/
365
2017
Surf's Up
3/5
Sky Blue
Blue, White & Orange stripes w/ 'JNC Surf Patrol' on sides, White stripes w/ '71' on hood
Black
/
Plastic
Tinted (Black)
Black
Chrome Red 5SP
FBD29
Malaysia
Base codes: K16, K18, K19
277
/
365
2017
Surf's Up
3/5
Unpainted
Orange, Yellow & Black stripes w/ 'JNC Surf Patrol' & '71' on sides, Black, Orange & Yellow stripes on hood
Black
/
Plastic
Tinted (Yellow)
Black
Yellow 5SP
FBJ01
Malaysia
Walmart exclusive ZAMAC
Base code(s): K19
-
2017
Brazil / Mexico Convention Exclusive
Light Blue & White
Red Stripes on top, Hot Wheels Logo on side
Unpainted
/
Metal
Tinted (Gray)
Red
Red Rim Chrome C4SPRR
FCM62
Malaysia
Base code(s):
7,000 Produced
Convention Canceled

5
/
10
2018
50th Anniv Favorites
Light Blue
White & Red Stripes on top, Silver Stripe, 'Datsun', 50TH logo on sides
Unpainted
/
Metal
Clear
Black
C4SPRR
FLF36
Thailand
Base code(s): L02, L03, L04, L14
1
/
12
2018
Mystery Models
Light Green
White & Yellow Flowers all over
Chrome
/
Plastic
Clear
Yellow
Chrome Green Rim Black MC5
Base code(s):
1
/
3
2018
32nd Annual Collectors Convention
Blue
Light Blue & Orange Stripes and Hot Wheels Logo on side
Clear
Blue
RR5SP
Base code(s):
5pk
2019
Speed Blur 5-Pack
Gray
White & Gold irregular line pattern all over, "ホットホイール" on sides and roof, White circle on hood
Chrome
/
Plastic
Tinted (Gray)
White
Gold LW
FYL13
Indonesia
Base code(s): L35, L41, L44, M14
2
/
6
2019
Satin and Chrome Series
Gray
51 Circle on front doors, HW logo on rear quarter panel, blue pinstripe and gold stripe with "ホットホイール" on sides
Gold
/
Plastic
Clear
Gold
Gold 5SP
GHN95
Malaysia
Base code(s): M13
See Also
Gallery