The 18th Annual Hot Wheels Collectors Nationals took place April 4-8, 2018 in Dallas, Texas.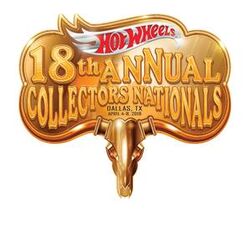 The following vehicles were released at this convention. 
Vehicles
Toy #
Number
Casting
Body Color
Tampo
Quantity
Notes
Photo
FPN18
1 of 3
'66 Chevy Super Nova
Spectraflame Copper
'Copperhead' and Sponsors Logos on side, Textured Snakeskin Roof
5,000
Variation: Interior with or without Rollcage
FPN19
2 of 3
'83 Chevy Silverado
Red & Beige
Details and Pinstripe on Hood
5,000

FPN921

910-HTP

3 of 3
'55 Chevy Bel Air Gasser
Spectraflame Gold
Sponsors Logos and Hot Wheels 50th Anniversary Logo on side
3,500
Finale Car
FPN20
-
Volkswagen T1 Rockster
Yellow & White
Details
4,000
Dinner Car for Phil Riehlman
FPN12
-
Datsun Bluebird 510
Spectraflame Pink
White Roof and Trim
5,000
RLC Party
Newsletter Cars
Dinner Bonus Cars
Charity Auction Cars
The following vehicles are prototypes that were donated by Mattel to be auctioned to collectors at the convention with all revenues go to the Children's Miracle Network Hospitals.
Note: The '62 Corvette in black with gold stripes was used as a Charity Vehicle but was not an official Hot Wheels product.
| Casting | Body Color | Wheel Type | Notes | Photo |
| --- | --- | --- | --- | --- |
| '40 Ford Coupe | Unpainted | 5SP | | |
| '56 Chevy Nomad | Black | RR6SP | | |
| '56 Ford Truck | White | 5SP | Resin | |
| '56 Hi-Tail Hauler | Unpainted | None | | |
| '66 Chevy Super Nova | Red | J5/PR5 | | |
| '67 Pontiac GTO Convertible | Red | 5SP | | |
| '69 Chevelle SS 396 | Red | 5SP/PR5 | | |
| '69 Corvette Racer | Blue | PR5 | | |
| '94 Camaro | Blue | RR | | |
| Customized C3500 | Aqua | 5SP | Resin | |
| '17 Jeep Wrangler | Blue | BLOR | | |
| '18 Camaro SS | Red | RA6/OH5 | | |
| 2018 Ford Mustang GT | White | J5 | | |
| At-A-Tude | Blue | LW | Resin | |
| Boom Box | Blue | OH5 | | |
| Bowser | Blue | OR6SP | | |
| Captain America | Red | 5SP | | |
| Chevy NASCAR | Unpainted | | | |
| Chevy Suburban | Unpainted | 5SP | | |
| Corvette SR-2 | Blue | PR5 | | |
| Custom Firebird | Unpainted | RL | | |
| Custom Fleetside | Blue | RL | 3D Printed | |
| Custom Ford Maverick | Red | MC5 | | |
| Custom Barracuda | Spectraflame Purple | Redline RRPrf | | |
| Deora II | Silver | 5DOT | Resin | |
| Flash Drive | Blue | 5SP | | |
| Ford F-250 | Red | PR5 | | |
| Ford Transit Supervan | Yellow | PR5 | | |
| Ghostbusters Ecto-1 | Yellow | 5SP | | |
| Hawkman | Fleshtone | PR5/SK5 | | |
| The Homer | Red | 5SP | 3D Printed | |
| Holden SS Commodore VT | Black | 5SP | | |
| Custom '69 Dodge Charger | Gray | LW | | |
| McLaren F1 GTR | White | PR5 | | |
| Pedal Driver | Red | 5SP/PR5 | | |
| Rocket Raccoon | White | PR5/OH5 | | |
| SRT Viper GTS-R | White | 5SP | | |
| Swoop Coupe | Unpainted | SK5 | | |
Hot Wheels Collectors Nationals by Year