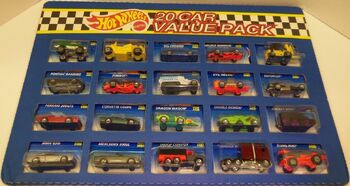 This page will be on the  20-Pack. The First 20-Pack Hot Wheels released were very large( approx. 2 1/2 ' x 1 1/2') flat blue cardboard with windows cut out to fit the blister of each car. 20 Hot Wheels blisterpacks were placed inside and then sealed on the back. This was 1990? maybe 1991. Anyway I remember buying my first one because it had a SHO Mini Truck, so I hunted for more. The one pictured left is 1996.
more to come, please feel free to join in.
I am not here to rewrite this wiki, Also with some Multipack Hot wheels have a very good write up on them , I will Just link to that page.So with that said I could use help here. I do not know anything about the newer stuff. Please delete this once someone can help this page out.
I will work on it as I have time to research newer stuff thanks
LOOK here for more Multipacks
List
2009
Hot Wheels Delivery: Sweet Treats 20-Pack
2011
Team Hot Wheels Commemorative 20-Pack
2018
Hot Wheels® 20-Car Gift Pack (2018)
2019
Community content is available under
CC-BY-SA
unless otherwise noted.