2016 Treasure Hunts
The 2016 Treasure Hunts Series is part of the 2016 Hot Wheels line.
Starting in 2013, Mattel has incorporated Treasure Hunts into other series instead of being their own series.
Treasure Hunts are distinguished by the 'circle flame' symbol.

Toy #
Col. #
# in Series
Model Name
Body Color
Tampo
Base Color / Type
Window Color
Interior Color
Wheel Type
Country
Photo
Case (Wave)
DHP44
012/250
X-Raycers
2/10
Rig Storm
Translucent Green
Yellow and Blue tampos on side
Grey
/
Plastic
Tinted (Yellow)
Chrome
Yellow & Clear Blue Y5
Malaysia
A
DHP53
022/250
HW Digital Circuit
2/10
'11 Corvette Grand Sport
Red
White decals on hood and sides 
Black
/
Plastic
Tinted (Black)
Black
TRAP5
Malaysia
B
DHP75
050/250
HW Glow Wheels
5/10
Rip Rod
Black
Yellow tampos
Blue
/
Metal
Tinted (Yellow)
Light Blue

Glow-in-the-Dark MC5

Malaysia
C
DHR44
138/250
Sky Show
3/5
4ward Speed
Yellow
Purple and checkered Flames with Blue outlines
Purple
/
Plastic
Tinted (Blue)
Purple
Turquoise TRAP5
Malaysia
D
DHT05
215/250
HW Rescue
5/10
Dodge Charger SRT8
Red
White, Yellow and Orange tampos on hood, roof and side, Red "8" with outlines, White "8" on side rear, Fire Department Logo, White padding of "FIRE"
Black
/
Plastic
Clear
Yellow
OH5
Malaysia
E
DHR64
163/250
HW Daredevils
8/10
Mountain Mauler
Metalflake Navy Blue and Yellow
Black tampos on side, white "64" and "BV" on side, yellow hot wheels logo and "DAREDEVILS" on side
Chrome
/
Plastic
NA
Black
BLOR
Malaysia
F
DHP66
038/250
Super Chromes
3/10
Mig Rig
Chrome
Blue Tampos on side, "Super Chromes" in blue with yellow outlines and SPEED SHOP"in yellow on side
Black
/
Plastic
Tinted (Blue)
Chrome
Blue OH5
Malaysia
G
DHT13
223/250
HW Screen Time
3/5
Grease Rod
Metalflake Gold
Black Tampos on side and back
Black
/
Plastic
NA
Gray
MC5
Malaysia
H
DHP91
066/250
HW Ride-Ons
1/5
Let's GO
Blue
Black and Orange tampos, Black and Orange Checkered tampos on side, Black "16" bordered by Yellow on hood and side
Orange
/
Plastic
NA
Yellow
OH5
Malaysia
J
DHR40
133/250
HW Moto
3/5
Bad Bagger
Metlaflake Navy Blue
Yellow Flames with Orange outlines
ZAMAC
NA
NA
MC3
Malaysia
K
DHP52
033/250
Tool-in-1
3/5
Night Burner
Yellow
Yellow and Black Tampos
Black
/
Plastic
Clear
Chrome
Gray MC5 with Black Rims
Malaysia
L
DHT36
250/250
Dino Riders
T-Rextroyer
Magenta 
Pink cell-like and fire tampos on roof, yellow nucleus in cell-like tampos
ZAMAC
NA
Chrome
Yellow PR5 with chrome rims
Malaysia
M
DHR96
203/250
Street Beasts
Howlin' Heat
Earth Green
Black tampos surrounded by Yellow tampos on roof
Orange
/
Plastic
NA
Chrome
Yellow OH5 with chrome rims
Malaysia
N
DHR68
168/250
HW City Works
3/10
Repo Duty
Orange
Blue and Red Stripes, Blue "Treasure Hunt" and "Towing Serive" on side
Chrome
/
Plastic
Tinted (Blue)
Black
PR5
Malaysia
P
DHR54
151/250
HW Daredevils
1/10
Dune Crusher
Black
White and Red Tampos, White Hot Wheels Logo on hood, White "49" in Green Padding and Black "HWGT" in White Margin on side and hood
Red
/
Metal
None
Black
OR6SP
Malaysia
Q
2016 Super Treasure Hunts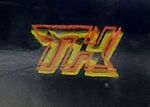 In 2016, Mattel released a series of Super Treasure Hunts, hidden among the other series.
They are distinguished by one or more of the following: Spectraflame paint, Real Riders, extensive detail, and either a writing of 'TREASURE HUNT' symbol or a TH symbol. A new feature that was added in 2016 was a flame within a circle behind the vehicle on the card like the one below.

Toy #
Col. #
# in Series
Model Name
Body Color
Tampo
Base Color / Type
Window Color
Interior Color
Wheel Type
Country
Photo
Case (Wave)
DHT90
241/250
Green Speed
1/5
2008 Tesla Roadster
Spectraflame orange
Black and White stripes and tampos, 'TESLA' on rear and tail lights
Black
/
Plastic
Tinted (Black)
Black
RR5SP
Malaysia
A
DHT91
097/250
Heat Fleet
7/10
'52 Hudson Hornet
Spectraflame Red
Black Flames with Yellow outlines, "HUDSON HORNET" on side, 'D.WATSON' on side roof, "28" on corner roof and rear side, TREASURE HUNT on each side of hood
Gold
/
Plastic
Clear
Black
Gold RRSteelie
Malaysia
B
DHT81
103/250
Then and Now
3/10
'90 Acura NSX
Spectraflame Dark Blue
Acura logo on front, detailed taillights
Black
/
Plastic
Tinted (Black)
Black
RREx
Malaysia
C
DHT85
180/250
HW Speed Graphics
5/10
'14 Corvette Stingray
Spectraflame Black
Headlights and Taillight tampos, Red and Orange stripes with white "K&N" on hood and side
Orange
/
Plastic
Tinted (Black)
Black
Orange RREx / Grey RREx
Malaysia
D
DHT82
114/250
HW Showroom
4/10
Porsche 993 GT2
Spectraflame Blue
Orange and Black stripes, Porsche logo on hood and "PORSCHE" on spoiler
Gray
/
Plastic
Clear
Grey
Orange RREx
Malaysia
E
DHT84
145/250
Hot Trucks
5/10
Bad Mudder 2
Spectraflame Light Blue
Red Stripe on side, Black tampos with White outlines, White and Red "BM2" on side rear
Red
/
Plastic
None
Black
ORRR5SP
Malaysia
F
DHT83
124/250
Muscle Mania
4/10
'69 Dodge Charger Daytona
Spectraflame Green
Black tampos on hood and side, Orange tampos on side
Chrome
/
Plastic
Clear
Black
RR5SP
Malaysia
G
DHT78
064/250
HW Mild to Wild
9/10
'10 Pro Stock Camaro
Spectraflame Purple
White and Yellow tampos on top, Yellow flames and white stripes on side, HW logo, sponsored tampos on side rear
Yellow
/
Plastic
Clear
White
Gold & Black RR5SP
Malaysia
H
DHT88
226/250
BATMAN
1/5
TV Series Batmobile
Spectraflame Black
Black with red liner, and a red Batman logo
Grey
/
Plastic
Clear
Gray
RR5SP
Malaysia
J
DHT86
188/250
BMW (100th Anniversary)
3/5
BMW Z4 M Motorsport
Spectraflame Dark Blue
Light Blue and Red tampos, White "BMW Z4 Coupe on side, Black "44" on white square
Grey
/
Plastic
Clear
White
D7RR
Malaysia
K
DHT87
199/250
HW Art Cars
9/10
Boom Box
Spectraflame Dark Blue
Yellow, Red and Black tampos with black outlines
Black
/
Plastic
Clear
White
Chrome Red & Black RR5SP / Chrome Yellow & Black RR5SP
Malaysia
L
DHT80
081/250
Night Burnerz
1/10
Driftsta
Spectraflame Magenta
White and Black stripes, white Yokohama logo on side and hood
Black
/
Plastic
Tinted
White
C4SPRR
Malaysia
M
DHT79
073/250
HW Exotics
3/10
'17 Ford GT
Spectraflame Blue
Ford Logo, Headlight tampos
Grey
/
Plastic
Clear
Grey
Grey RR10SP
Malaysia
N
DHT89
238/250
HW Games
8/10
Nitro Doorslammer
Spectraflame Black
Pink and White Tampos, 2016 Hot Wheels Medal on side.
White
/
Plastic
Clear
Grey
Chrome Red RR5SP
Malaysia
P
DHT77
005/250
HW Race Team
5/10
Carbonic
Spectraflame Blue
White, Yellow, Blue and Red Tampos, White "10" on side, hot wheels logo on hood and side
Chrome
/
Plastic
Tinted (Blue)
Black
Red RREx
Malaysia
Q
Treasure Hunts by year