2018 Treasure Hunts
The 2018 Treasure Hunts Series is part of the 2018 Hot Wheels line.
Since 2013, Mattel has incorporated Treasure Hunts into other series instead of being their own series.
Treasure Hunts are distinguished by the 'circle flame' symbol.

Toy #
Col. #
Series
Model Name
Body Color
Tampo
Base Color / Type
Window Color
Interior Color
Wheel Type
Country
Photo
Case (Wave)
FKB29
No #
Dino Riders
3/5
Sting Rod II
Dark Blue
Silver, Orange & Yellow Graphics on the Hood and Sides, TH Logo on the Rear Fender.
Orange
/
Plastic
Tinted (Red)
Red
Brown & Yellow BLOR
Malaysia
A
FJW90
No #
X-Raycers
1/10
El Viento
Dark Blue
Xi Electrical circuit & TH Logo on top
Grey
/
Plastic
Tinted (Grey)
Blue
Black PR5 Yellow Wheel
Malaysia
B
FKB31
No #
HW Ride-Ons
2/5
Tanknator
Black Grey
TH Logo, Black White Grey Digital camo, TANKNATOR on the sides
Black
/
Plastic
NA
Back Chrome Green Rimmed OR6SP
Front Chrome Green Rimmed PR5
Malaysia
C
FKB28
No #
HW Moto
1/5
Street Stealth
Black
"ホットウィール", "Salazar", "Yoko", "Miho" and "Kuni" on sides, circle flame logo on sides
Yellow
/
Metal
None
None
Black MC3
Malaysia
D
FKB32
No #
HW Robots
4/5
Zombot
Red
Various mechanical details, yellow eyes
Black
/
Metal
None
None
Gray RA6
Malaysia
E
FKB23
No #
HW Sports
9/10
Rockster
Blue
Orange and White mountains, "HW SKITEAM" on sides.
Grey
/
Plastic
Tinted (Orange)
Chrome
White BLOR
Malaysia
F
FKB27
No #
Super Chromes
2/10
Blitzspeeder
(2nd Color)
Gold Chrome
Black stripes hood and sides. TH Logo on sides.
Metal Flake Purple
/
Metal
Tinted (Smoke)
Grey
Gold Chrome Wall 5SP
Malaysia
G
FKB22
No #
Holiday Racers
5/6
RRRoadster
(2nd Color)
White
2018 Spring,
Rabbit head and HW Logo on sides, TH symbol on hood.
Pink, yellow and Blue stripes on hood and sides.
Blue
/
Plastic
Tinted (Purple)
Black
Gold Rimmed FTE
Malaysia
H
FKB25
No #
HW Art Cars
8/10
Kool Kombi
Purple
Yellow, Pink and Blue Hippie graphics. Peace Sign, Flowers, TH Flame Logo
Yellow
/
Plastic
Tinted (Green)
Red
Front: Blue & Yellow 5SP & Rear: Red & Yellow 5SP
Malaysia
J
FKB35
No #
HW Fun Park
45
Bump Around
(2nd Color)
Metalflake Maroon
"Bump Around" on side, '1' on left side and TH flame logo on right side
Yellow
/
Plastic
N/A
Black & White
Chrome Gold 5SP
Malaysia
K
FKB30
No #
HW Glow Wheels
6/10
Hollowback
(2nd Color)
Violet
HW Logo, TH Logo, G3, GLOW on sides. 
Metalic Green
/
Plastic
Tinted (Yellow)
Chrome
Glow in the Dark PR5
Malaysia
L
FKB34
No #
Fast Foodie
2/5
Quick Bite
(2nd Color)
Green
Red & Black, HW logo, TH flame logo & "ASADA Sushi Burritos", menu Board on sides
Chrome
/
Plastic
Tinted (Yellow)
Black
Lime Chrome DD8
Malaysia
M
FKB33
No #
Street Beasts
9/10
Ratical Racer
(2nd Color)
Blue
Yellow fishboning on top, Hot Wheels Logo and TH logo on roof
Silver
/
Metal
None
None
Gold & Red PR5
Malaysia
N
FKB24
No #
Batman
4/5
Batmobile
(2nd Color)
Metalic
Blue
Blue and Grey pinstipes on hood, TH logo on roof.
Black
/
Plastic
Tinted (Blue)
Black
Grey spoke
5SP
Malaysia
P
FKB21
No #
Experimotors
6/10
Crate Racer
(2nd Color)
Purple
Orange and Green Flames on sides, Crate Racer on side panels, TH logo on panel above
Grey
/
Plastic
Tinted (Green)
Chrome
Front Chrome
5SP
Rear Chrome
OH5
Malaysia
Q
2018 Super Treasure Hunts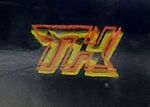 In 2018, Mattel released a series of Super Treasure Hunts, hidden among the other series.
They are distinguished by one or more of the following: Spectraflame paint, Real Riders, extensive detail, and either a writing of 'TREASURE HUNT' symbol or a TH symbol. A new feature that was added in 2015 was a flame within a circle behind the vehicle on the card like the one below, except it is the color gold.

 
Toy #
Col. #
Series
Model Name
Body Color
Tampo
Base Color / Type
Window Color
Interior Color
Wheel Type
Country
Photo
Case (Wave)
FKB40
No #
HW Hot Trucks
4/10
Datsun 620
Spectraflame Green
Black stripe, '73' & TH on sides
Black
/
Plastic
Clear
Black
BlackRR5SP
Malaysia
A
FKB41
No #
HW Flames
3/10
'68 Chevy Nova
Spectraflame Purple
Yellow stripe, flames & TH on sides
Chrome
/
Plastic
Tinted (Black)
Black
Yellow rim RRSteelie
Malaysia
B
FKB47
No #
Nightburnerz
2/10
Porsche 934.5
Spectraflame Aqua
White 34, Porsche & TH, Porsche logo, Headlights
Black
/
Plastic
Tinted (Black)
Black
White RRA
Malaysia
C
FJY37
No #
HW Speed Graphics
4/10
2015 Ford Mustang GT
Spectraflame Black
78, BORLA, HW Logo on sides, 78 on hood. Red stripes hood and sides, TH logo
Black
/
Plastic
Tinted (Black)
Black
Black RR10SP
Malaysia
D
FKB49
No #
Then and Now
1/10
Nissan Skyline 2000 GT-R
Spectraflame Blue
Light Blue stripes, TH logo
Dark Blue
/
Plastic
Tinted (Smoke)
Black
Black C4SPRR
Malaysia
E
FKB36
No #
Legends of Speed
5/10
Indy 500 Oval
Spectraflame Aqua Blue
Orange & Blue Stripe Graphics on Sides & Top, Orange, Blue &

White Gulf Logo on Sides & Top, Black '33' on Rear Wing and Nose, Black 'TH' Logo on Nose.

Orange
/
Plastic
N/A
Orange
Orange C4SPRR
Malaysia
F
FKB39
No #
Tooned
5/5
'68 Mustang
Spectraflame Gold
Black & Red stripes, STH logo
Black
/
Plastic
Tinted (Smoke)
Chrome
Red rim Black RR5SP
Malaysia
G
FKB48
No #
Muscle Mania
1/10
2017 Camaro ZL1
Spectraflame Green
STH, Black stripe on sides, ZL1 on stripe, and Black on hood
Black
/
Plastic
Tinted (Smoke)
Black
Chrome Rim Black RR5SP
Malaysia
H
FKB42
No #
HW Metro
4/10
'52 Chevy
Spectraflame Pink
White Pinstripes on Sides, Hood and Roof. '1968 Hot Wheels Stripes & Letters' on Doors. 'TH' Logo on Rear
Black
/
Plastic
Clear
Black
RR8SP
Malaysia
J
FKB50
No #
HW Exotics
6/10
Aventador Miura Homage
Spectraflame Red
Detailed headlights, Miura 50 logo & Gold stripe on bottom sides. TH logo
Black
/
Plastic
Clear
Black
RREx
Malaysia
K
FKB46
No #
Checkmate
1/9
King Kuda
Spectraflame Black
Blue and White Chessboard Graphics with 'KING' on Sides, Roof and Trunk, TH logo
Black
/
Plastic
Tinted (Blue)
Chrome
Chrome Rim, Black RR5SP
Malaysia
L
FKB37
No #
Factory Fresh
5/10
'17 Audi RS 6 Avant
Spectraflame Red
Detailed headlights, tail-lights, Audi logo, 'Quattro', 'HW RS 618' on license plate, TH logo
Black
/
Plastic
Tinted (Grey)
Gray
RRA
Malaysia
M
FKB45
No #
HW Daredevils
2/5
Fiat 500
Spectraflame Orange
Yellow stripes & 'HWDDVL', Black & White '500' & '01' on sides, TH logo
Black
/
Plastic
Clear
Black
Yellow RRC
Malaysia
N
FKB44
No #
HW 50th Race Team
2/10
'70 Ford Escort RS1600
Spectraflame Blue
Orange, White Stripes, Hot Wheels logo, 50th Anniversary Emblem, and #14 on both sides, TH logo
Orange
/
Plastic
Tinted (Blue)
Black
RR10SP
Malaysia
P
FKB43
No #
HW Screen Time
9/10
Cruella de Vil
Spectraflame Red
Gold, Silver & White details, TH logo
Grey
/
Plastic
Clear
Black
SRR
Malaysia
Q
Treasure Hunts by year