2021 Treasure Hunts
The 2021 Treasure Hunts Series is part of the 2021 Hot Wheels line.
Since 2013, Mattel has incorporated Treasure Hunts into other series instead of being their own series.
Treasure Hunts are distinguished by the 'circle flame' symbol.

Toy #
Col. #
Series
Model Name
Body Color
Tampo
Base Color
/
Type
Window Color
Interior Color
Wheel Type
Country
Photo
Case (Wave)
GTC96
028/250
Holiday Racers
1/5
Baja Bone Shaker
Black
HW Logo, Green & Orange Flames on the roof, Treasure Hunt, 10/31 & Halloween Pumpkin on doors
Purple
/
Plastic
N/A
Chrome
Orange Skull
Malaysia
A
GTC84
041/250
Fast Foodie
2/5
Street Wiener
Yellow
'Speed Dog' on sides, sauce on top

Unpainted
/
Metal
N/A
N/A
Maroon & Yellow AeroDisc
Malaysia
B
GTC88
065/250
HW Art Cars
4/10
Custom '77 Dodge Van
White
Jack of Hearts Graphics on Sides, the letter "A" on Roof. Circle Flame Logo in Axe Handle of the Jack.
Black
/
Plastic
Tinted (Red)
Black
Chrome Red RSW
Malaysia
C
GTC90
093/250
Dino Riders
4/5
Motosaurus
Light Green
Green & Yellow Stripes with Yellow Circle Flame Logos
Dark Green
/
Plastic
N/A
N/A
Green & Chrome Green RA6
Malaysia
D
GTC87
103/250
Experimotors
9/10
Skull Shaker
Satin Light Purple
Yellow & Orange flames, Grey circle flame & HW logo.
Black
/
Plastic
N/A
N/A
White 5SP
Malaysia
E
GTC92
136/250
HW Daredevils
5/5
Tred Shredder
Blue
White and blue stripes, #40 sides, White Circle Flame logo on side
Unpainted
/
Metal
N/A
N/A
Blue ORMC
Malaysia
F
GTC97
144/250
HW Dream Garage
5/5
Deora II
Metalflake Blue
Light Blue HW Logo, Circle Flame Logo on side, HW Logos on Surf Boards
Black
/
Plastic
Tinted
Chrome
PR5
Malaysia
G
GTC94
156/250
HW Race Day
10/10
Mustang Funny Car
Gray
Hot Wheels logo, sponsors
Black
/
Plastic
Cyan tint
Chrome
5SP
Malaysia
H
GTC89
165/250
HW Metro
10/10
Chrysler Pacifica
White
"MICHELIN TIRE SHOP" on sides
Gray
/
Plastic
Tinted (Blue)
Black
Black
Malaysia
J
GTC93
190/250
Then and Now
10/10
'91 Mazda MX-5 Miata
Red
White & black Hot Wheels logo on license plate on front and back, white stripes on top and sides, 'MX-5' on sides
Black
/
Plastic
Tinted (Dark Grey)
Black
White LW
Malaysia
K
GTC91
199/250
HW Space
5/5
Ollie Rocket
Black & Blue
"Asteroid Interceptor" on both sides. White-on-red circle flame behind front tires.
Gold Chrome
/
Plastic
N/A
N/A
Black rim, White OH5
Malaysia
L
GTC95
212/250
HW Hot Trucks
5/10
1978 Dodge Li'l Red Express Truck
Metalflake Green
Yellow Dodge script on hood, yellow stripes on hood and side, GOOD YEAR and TH Logo on rear fenders
Chrome
/
Plastic
Clear
Black
Gold RSW
Malaysia
M
GTC85
220/250
Batman
5/5
Justice League Batmobile
Metalflake Black
Yellow designs
Black
/
Plastic
Yellow tint
Grey
RA6
Malaysia
N
GTC98
240/250
Muscle Mania
8/10
'65 Ford Galaxie
Yellow
HW Logo, black stripes on sides & hood, red 21 "FORD" "427 C.I." sponsor names
Black Chrome
/
Plastic
Clear
Black
Gray rim, black DD8
Malaysia
P
GTC86
247/250
HW Rescue
10/10
Lamborghini Countach Police Car
White
EMERGENCY on both sides, EMERGENCY on front.
Black
/
Plastic
Tinted (Blue)
Black
Grey AeroDisc
Malaysia
Q
2021 Super Treasure Hunts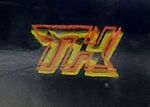 In 2021, Mattel released a series of Super Treasure Hunts, hidden among the other series.
They are distinguished by one or more of the following: Spectraflame paint, Real Riders, extensive detail, and either a writing of 'TREASURE HUNT' symbol or a TH symbol. A new feature that was added in 2015 was a flame within a circle behind the vehicle on the card like the one below, except it is the color gold.

 
Toy #
Col. #
Series
Model Name
Body Color
Tampo
Base Color
/
Type
Window Color
Interior Color
Wheel Type
Country
Photo
Case (Wave)
GTD10
023/250
HW Turbo
1/5
Nissan 300ZX Twin Turbo
Spectraflame Blue
Trim details front & rear, TH logo
Black
/
Plastic
Tinted (Smoke)
Black
RR6SPM
Malaysia
A
GTC99
037/250
HW Race Day
3/10
Corvette Grand Sport Roadster
Spectraflame Teal
Red & White stripes, White roundels on Sides & top
Black
/
Plastic
Tinted (Smoke)
Pearl White
Chrome Rim, Gold RR
Malaysia
B
GTD11
073/250
Mattel Games
2/5
Rodger Dodger
Spectraflame Black
Magic 8 Ball
Black
/
Plastic
Tinted (Smoke)
Black
Chrome Rim RR
Malaysia
C
GTD12
088/250
Factory Fresh
6/10
'95 Mazda RX-7
Spectraflame black
Detailed headlamps and taillamps, Mazda or ɛ̃fini logo on front
Black
/
Plastic
Tinted (Smoke)
Tan
RR6SPM
Malaysia
D
GTD07
114/250
HW Speed Graphics
4/10
Corvette C7 Z06 Convertible
Spectraflame Black
K&N orange and red stripes
Black
/
Plastic
Tinted (Smoke)
Black
Orange Rim, BlackRREx
Malaysia
E
GTD00
137/250
HW Drift
4/5
Mazda RX-3
Spectraflame white
Mad Mike-licensed graphics
White
/
Plastic
Tinted (Smoke)
Black
RRSteelie
Malaysia
F
GTD09
143/250
HW Torque
4/5
2020 Ford Mustang Shelby GT500
Spectraflame gold
Stripes down hood
Black
/
Plastic
Tinted (Smoke)
Black
RR10SP
Malaysia
G
GTD04
162/250
HW J-Imports
4/10
'71 Datsun 510
Spectraflame seafoam
"510" on sides, checkered flag design
Black
/
Plastic
Tinted (Smoke)
Black
C4SPRR
Malaysia
H
GTD08
171/250
HW Speed Graphics
7/10
Porsche 356 Outlaw
Spectraflame Light Blue
Orange stripes, and skirts, Gulf logo on hood and fenders, 53 on sides
Gray
/
Plastic
Tinted (Smoke)
Black
DDRR
Malaysia
J
GTD05
186/250
HW J-Imports
6/10
2018 Honda Civic Type R
Spectraflame black
"HKS Hipermax" on hood & sides; HW logo & TH logo on sides; teal, red & purple tampos
Black
/
Plastic
Smoke tint
Black
Blue RR6SPM
Malaysia
K
GTD02
207/250
HW Flames
2/5
'68 Mercury Cougar
Spectraflame Green
Black and yellow flames on hood and sides. Super treasure hunt symbol and Hot Wheels logo on sides.
Chrome
/
Plastic
Smoke (tinted)
Black
Chrome RR5SP
Malaysia
L
GTD01
211/250
HW Exotics
4/10
2019 Audi R8 Spyder
Spectraflame Blue
Detailed headlights & taillights, Audi & R8 logos, 'R8 Spyder' licence plates
Black
/
Plastic
Tinted (Smoke)
Black
RR5SPM
Malaysia
M
GTD03
225/250
HW Hot Trucks
6/10
'49 Ford F1
Spectraflame purple
Tribal-style designs, TH logo on doors
Chrome
/
Plastic
Clear
Tan
RR5SP
Malaysia
N
GTD06
232/250
HW Race Team
7/10
'64 Nova Wagon Gasser
Spectraflame Blue
Orange & White Stripes, Checker design, "6", HW Logo
Black
/
Plastic
Light blue tint
Chrome
RR5SP
Malaysia
P
GTD13
250/250
Muscle Mania
10/10
Shelby Cobra 427 S/C
Spectraflame Red
White Striping along top. White dot on trunk lid + sides. TH logo on sides.
Chrome
/
Plastic
Clear
Black
Black w Chrome Rim RR10SP
Malaysia
Q
Treasure Hunts by year