2022 Treasure Hunts
The 2022 Treasure Hunts Series is part of the 2022 Hot Wheels line.
Since 2013, Mattel has incorporated Treasure Hunts into other series instead of being their own series.
Treasure Hunts are distinguished by the 'circle flame' symbol.

2022 Super Treasure Hunts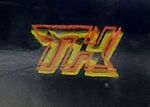 In 2022, Mattel released a series of Super Treasure Hunts, hidden among the other series.
They are distinguished by one or more of the following: Spectraflame paint, Real Riders, extensive detail, and either a writing of 'TREASURE HUNT' symbol or a TH symbol. A new feature that was added in 2015 was a flame within a circle behind the vehicle on the card like the one below, except it is the color gold.

 
Toy #
Col. #
# in Series
Model Name
Body Color
Tampo
Base Color / Type
Window Color
Interior Color
Wheel Type
Country
Photo
Case (Wave)
HCY10
020/250
Chevy Bel Air
1/5
'55 Chevy
Spectraflame blue
Pinstriping, black detailing, "Bel Air", TH logo on sides
Chrome / Plastic
Light blue tint
White
RR5SP
Malaysia
A
HCY20
034/250
Retro Racers
2/10
'73 BMW 3.0 CSL Race Car
Spectraflame gold
"73", Bilstein logo, TH logo on sides, red detailing
Red / Plastic
Smoke tint
Black
RR8SP
Malaysia
B
HCY16
055/250
HW Metro
6/10
Dodge Van
Spectraflame lilac
"HW KART CO. SERVICE & PARTS", Ryu, Hoosier, Castrol, Bell logos, TH logo on side
Black / Plastic
Light blue tint
Chrome
MiniC4SP
Malaysia
C
Treasure Hunts by year