In 2001, 100% Hot Wheels celebrated the 30th Anniversary of 1971 Muscle cars by releasing this 4-Car set, featuring four brand new castings all highly detailed with rubber wheels and opening hoods.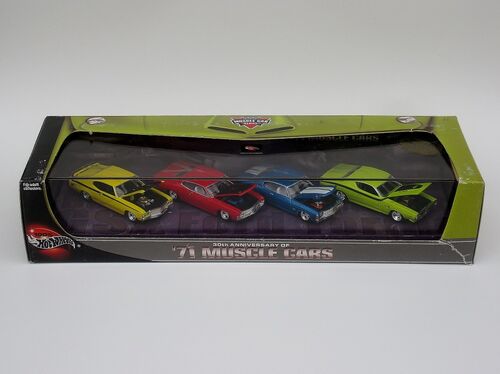 In 1971, America's big three auto struggled against government safety regulations and escalating insurance premiums, but Motown's muscle cars were still popular among those who rebelled against foreign imports with four-banger engines and speedometers that barely reached three digits. Muscle cars may be on the road to becoming extinct, but they were still magnificent examples of Detroit's ability to produced technical wonders we really wanted.
After three decades we look back and savor the memories of the Ford Torino, the Dodge Charger, the Chevy Chevelle SS, and the Buick GSX, four of Motown's most muscular and magnificent machines. Now, you can celebrate them with this 100% Hot Wheels 30th Anniversary of the 1971 Muscle Cars Set.
Vehicles
The following vehicles were included in the 2001 30th Anniversary of '71 Muscle Cars 4-Car Set:
Gallery
Community content is available under
CC-BY-SA
unless otherwise noted.