The one thing that will never be said about Bruce Baur's vehicles is that they are under-powered! Amongst Hot Wheels designers Bruce is the one keenly focused on cylinders, valves, overhead cams and super-chargers. In fact, the horsepower produced by Baur's Beasts would total over 9000 ponies. Bruce might have to buy a gas station to feed his beasts. Check 'em out!
Go-Mad
This Chevy Nomad with a chopped top and a way-altered wheelbase, is a quarter-mile asphalt burner boasting four - count 'em - four Hemi engines, each of which could be capable of producing 1500 horsepower. Yikes! Can you say smoke 'em.
Torqued Off
Bruce's customized super semi-truck boats two Allison aircraft engines, each of which would produce 3000 horsepower and torque that would go off the charts. Massive side scoops were designed to suck up air and help cool these hyper-hot twin-gines. This sure-to-be-fast beastie brings a new meaning to the term car-go!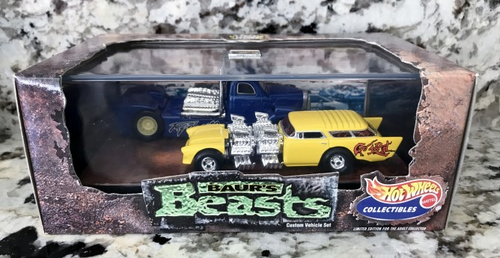 Vehicles
The following vehicles were included in the Baur's Beasts 2-Car Set:
Community content is available under
CC-BY-SA
unless otherwise noted.