Description
Brabham Repco F1 was Introduced in  1969 Hot Wheels lineup, based off the Brabham race car. Driven by  a Repco motor.This was part of the first ever series Grand Prix.
Most have Black interior, but white interiors can be found
Prototypes will have clear glass
There is a 1969 New York Toy Fair edition, It is chrome.
Only issued out of Hong Kong. Like the other Indy cars.
Came with Sticker sheet under car (see Gallery)
Generally found with a Silver & Red Hot Wheels water decal logo on the right side
Versions
The Brabham Repco F1 has come out in the following 1/64 scale versions:
| Year | Series | Color | Sticker | Base Color / Type | Window Color | Interior Color | Wheel Type | Cast # | Country | Notes / Variations | Photo |
| --- | --- | --- | --- | --- | --- | --- | --- | --- | --- | --- | --- |
| 1969 | Grand Prix | Spectraflame Red | | Metal | Blue tint | Black | RL | 6264 | HK | | |
| 1969 | Grand Prix | Spectraflame Green | | Metal | Blue tint | Black | RL | 6264 | HK | | |
| 1969 | Grand Prix | Spectraflame Aqua | | Metal | Blue tint | Black | RL | 6264 | HK | | |
| 1969 | Grand Prix | Spectraflame Blue | | Metal | Blue tint | Black | RL | 6264 | HK | | |
| 1969 | Grand Prix | Spectraflame Purple | | Metal | Blue tint | Black | RL | 6264 | HK | | |
| 1969 | Grand Prix | Spectraflame Orange | | Metal | Blue tint | Black | RL | 6264 | HK | | |
| 1969 | Grand Prix | Spectraflame Olive | | Metal | Blue tint | Black | RL | 6264 | HK | | |
| 1969 | Grand Prix | Dark Enamel Green | | Metal | Blue tint | Black | RL | 6264 | HK | | |
| 1969 | Grand Prix | Spectraflame Copper | | Metal | Blue tint | Black | RL | 6264 | HK | | |
| 1969 | Grand Prix | Spectraflame Brown | | Metal | Blue tint | Black | RL | 6264 | HK | | |
Similar Castings
1974 Flying Colors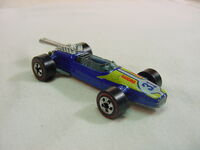 Gallery