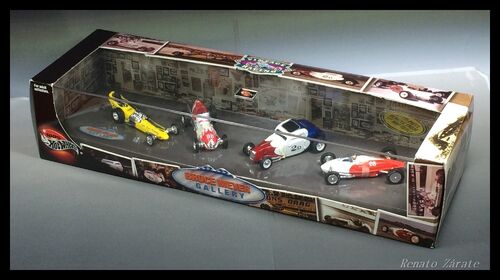 Growing up in southern California, Bruce Meyer fell in love with cars at an early age. Sports cars were his passion; Porsches and Cobras specifically, but then his taste broadened to include classic cars, then hot rods and racecars. Before he knew it, Bruce had accumulated a small fleet of vehicles. His gallery is possibly the finest private collection of historically accurate cars in the country. Bruce is widely admired and respected within the automotive community for his knowledge and contributions and is Chairman of the Board of the Petersen Automotive Museum.
100% Hot Wheels is proud to offer these historically significant vehicles in its Bruce Meyer Gallery.
Don Prudhomme's reputation as "The Snake" was established in this 'Greer/Black/Prudhomme' full-body dragster. The Snake won an amazing 137 of 141 races behind its wheel and went on to become the winningest driver of the early '60's.
The Pierson Brothers '34 Ford 3-window coupe is widely considered the most famous coupe in hot rod history. Brothers Dick and Bob built this record holding red to be run on dry lakes. It continuously set top speed records from the '50's through the '90's.
The So-Cal Belly Tank was a unique dry lake racer that was constructed from a P-38 fighter plane's fuel tank. It was a world-record holder at 198 MPH and won awards for its sleek good looks as well. It is an icon for the world of speed.
The Agajanian Special won the 1952 Indianapolis 500 driven by 22-year-old Troy Rutmann, the youngest driver in history to win the 500. It was the last 'dirt' car to win the 500 mile race marking an end of an era. #98 is remembered and revered for its style and significance.
Vehicles
The following vehicles were included in the Bruce Meyer Gallery 4-Car Set:
Community content is available under
CC-BY-SA
unless otherwise noted.