Connect Cars are a series of cars that come with interlocking display cases.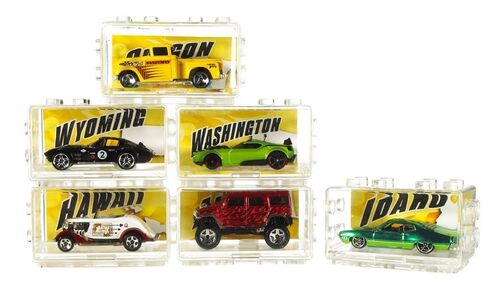 50 States
There are 50 cars representing 50 States numbered in the order they join the union. There is also an additional car to represent Washington DC. All cars were picked very carefully by Hot Wheels Designers to try to capture that particular state's essence. In order to get the Exclusive Washington D.C. Car, you must purchase 20 Connect Cars at a retailer then send in by mail purchase. Valid through 01/14/2009 - 11/30/2009. Go to www.HotWheelsCollector.com for the order form and full details.

Race Across The States!™ with Connect Cars™
http://www.hotwheelscollectors.com/news/news.aspx?news_id=802

Washington, DC 2007 Chevy® Tahoe™!
http://www.hotwheelscollectors.com/news/news.aspx?news_id=805
# in Series
State
Casting
Color
Tampo
Chassis Color / Type
Window Color
Interior Color
Wheel Type
Toy #
Country
Notes / Variations
Photo
1
Delaware
Chevy Pro Stock Truck
Metalflake Yellow
2
Pennsylvania
'57 T-Bird
Metallic Silver
Red, Blue, Brown and Yellow "Pennsylvania", "2", "Virtue" tampos
Chrome
/
Plastic
Blue tint
Blue tint
5SP
N4169
Malaysia
3
New Jersey
'64 Corvette Sting Ray
Metalflake Dark Green
4
Georgia
Custom '56 Ford Truck
Orange
White, Black, Green, Yellow Graphics, "GEORGIA", "4", "The Peach State"
Unpainted
/
Metal
Clear
Black
5SP
N4183
Thailand
5
Connecticut
Cunningham C4R
White
Blue, Black, Red. Connceticut on hood, 5 and CT on side
Black
/
Plastic
Blue
Black
5SP
Malaysia
6
Massachusetts
Track T
White
7
Maryland
'68 Cougar
Dark Red Metallic
Black, Blue, Neon Yellow Tampos. "MARYLAND", "7"
Unpainted
/
Metal
Blue tint
Black
5SP
N4157
Malaysia
Hood Opens
8
South Carolina
Hooligan
Primer Gray
Blue, Black & White "SO. CAROLINA MOONLIGHT DELIVERY", "SINCE 1789", "8" tampos
Unpainted
/
Metal
N/A
Blue
Red Chrome 5SP
N4158
Malaysia
9
New Hampshire
'64 Chevy Impala
Metaflake Dark Gold
10
Virginia
Cadillac Cien
Matte Dark Blue
Black & Yellow "NORFOLK PATROL", "10", Submarine, Yellow Stripe tampos, "VIRGINIA" in reverse Gray
Chrome
/
Plastic
Tinted
Black
Gray 3SP
N4172
Malaysia
11
New York
Fat Fendered '40
Yellow
Black and White "New York", "11", NYC Skyline, "Cooperstown" tampos, Checkerboard Stripes, White Flames
Unpainted
/
Metal
Tinted
Black
Chrome rim, Black OH5
N4156
Malaysia
12
North Carolina
'70 Plymouth Superbird
Metalflake Blue
13
Rhode Island
'67 Pontiac GTO Convertible
Metalflake Dark Blue
White & Gold "RHODE ISLAND", "13", "GTO", "LITTLE RHODY" tampos
Unpainted
/
Metal
Clear
Black
White 5SP
14
Vermont
Whip Creamer II
Metalflake Light Gold
Dark Green, Light Green and White "Vermont" and "14" tampos
Chrome
/
Plastic
Green tint
Chrome
5SP
N4167
Malaysia
15
Kentucky
C6 Corvette
White
16
Tennessee
'57 Cadillac Eldorado Brougham
Light Pink Pearl
Dark Brown, Light Brown and Beige "Tennessee", "16", Guitar and "Birthplace Of Country Music" tampos
Chrome
/
Plastic
Clear
White
LW
N4171
Malaysia
17
Ohio
Jeepster
Pearl White
Blue & Red Graphics. "Ohio", "17", "the Buckeye State", "FBHoF", "Jeepster"
Red
/
Metal
Dark Blue tint
Red
Chrome 5SP
N4191
Malaysia
18
Louisiana
Phantastique
Metallic Purple
Red, Yellow and Black "18", "Louisiana", Flaming Chili Pepper tampos
Gold
/
Plastic
Yellow tint
Black
Gold 5SP
N4182
Malaysia
19
Indiana
Old No. 3
Yellow
Black and Red tampos, w/ "19" and "Indiana" in all capitals
Black
/
Metal
N/A
Black
Yellow 5SP
N4173
Malaysia
20
Mississippi
'68 Chevy Nova
Red
21
Illinois
'62 Chevy
Orange
22
Alabama
'70 Plymouth Barracuda
White & Red
23
Maine
Dodge M80
Blue
24
Missouri
'52 Chevy Truck
Yellow
25
Arkansas
'57 Chevy
Black
Red, White and Blue "Arkansas", "25", "The Natural State" Graphics, Arkansas State Flag Deco
Chrome
Clear
Clear
5SP
N4196
Malaysia
26
Michigan
'65 Pontiac GTO
White
Black & Red "Michigan Muscle", "26", "Great Lake State" tampos
Chrome
/
Plastic
Tinted
Black
5SP
N4174
Malaysia
27
Florida
'69 Camaro
Metalflake Green
Gold & White "Florida", "27", "Everglades Gator Country Swamp Tours" tampos
Chrome
/
Plastic
Clear
White
5SP
N4159
Malaysia
28
Texas
'56 Flashsider
Red/Blue
29
Iowa
'65 Corvette
Red
White, Black & Blue "Iowa", "29" & "Ethanol" graphics
Chrome
/
Plastic
Clear
Black
PR5
N4175
Malaysia
30
Wisconsin
Cool-One
Metalflake Yellow
Green & White "Wisconsin", "Famous Cheese" and "30" tampos
Silver
/
Plastic
Clear
Pearl White
PR5
31
California
'40's Woodie
Metalflake Brown
Brown Woodgrain with reverse "CA" and "31", Black roof
Unpainted
/
Metal
Clear
Black
5SP
N4164
Malaysia
32
Minnesota
Twin Mill
Red
White Stripe down middle, Silver Fish Hook, "MINNESOTA", "32", "LAND OF 10,000 LAKES"
Unpainted
/
Metal
Red tint
White
5SP
N4163
Malaysia
33
Oregon
'33 Ford Roadster
Metalflake Olive
White, Black & Red graphics, "33", "Oregon", "DOUGLAS FIR" a Red Rose
Unpainted
/
Metal
Clear
Dark Red
Gold 5SP
N4165
Malaysia
34
Kansas
Dragtor
Flat Brick Red
35
West Virginia
'58 Chevy Impala
Metalflake Teal
36
Nevada
Shock Factor
Metalflake Teal
White, Red & Yellow Graphics. "Nevada", "36", "MINT RACING", "BATTLE BORN"
Unpainted
/
Metal
N/A
Red
OR5SP
N4178
Malaysia
37
Nebraska
'65 Mustang
Metalflake Brown
38
Colorado
Roll Patrol
Metalflake Gold
Black, Gray & White Mountains, "38" and "Colorado" graphics
Unpainted
/
Metal
Clear
Black
OR5SP
N4162
Malaysia
39
North Dakota
'70 Chevelle SS
Light Green
40
South Dakota
Plymouth Duster Thruster
Primer Gray
41
Montana
'66 Chevy Nova
Metalflake Teal
42
Washington
Fast Fish
Metalflake Light Blue
43
Idaho
'70 Ford Torino
Metalflake Blue
44
Wyoming
'68 Dodge Dart
White
45
Utah
Double Vision
Red
Yellow & Orange "Utah" & "45" tampos
Gray
/
Plastic
Clear
N/A
SK5
N4176
Malaysia
46
Oklahoma
'58 Thunderbird
White
47
New Mexico
'69 Pontiac Firebird T/A
Flat Beige
48
Arizona
Hot Bird
Metalflake Light Gold
Orange, Yellow & Black graphics. "ARIZONA", "48", "GRAND CANYON STATE", Black hood with Cattle Skull.
Clear
Black
5SP
49
Alaska
Hummer H2
Metalflake Dark Blue
Light Blue and White "Alaska", "49" and Whale Tail Graphics. "NORTH TO THE FUTURE", Antlers on hood.
Black
/
Plastic
Light Blue tint
Chrome
OR5SP
N4177
Malaysia
50
Hawaii
Meyers Manx
Metalflake Light Blue
Brown and White Tiki Face, "Hawaii" and "50" tampos
Unpainted
/
Metal
Blue tint
Black
5SP
N4166
Malaysia
Bonus Car
Washington D.C.
'07 Chevy Tahoe
Track Legends
There are 5 cars in 5 different teams/series totaling 25 cars. These cars are sold outside of the U.S. as a replacement for the 50 States cars.They are called "Racing Legends".
# in Series
Team/Series
Casting
Color
Tampo
Chassis Color / Type
Window Color
Interior Color
Wheel Type
Country
Notes / Variations
Photo
1
Diesel
Hollowback
Red
Silver, Black, White & Yellow "Diesel" Tampos #01
Unpainted
/
Metal
Clear
Black
Chrome OH5
Malaysia
P2093
2
Cryptix
Backdraft
Blue
Silver & Red "Cryptix" Tampos #6
Dark Charcoal
Red Tint
Chrome
Black Rim, Red Lip OH5
Malaysia
P2094
3
Sleek
Flathead Fury
Yellow
Red, Black, White & Silver "Sleek" Tampos #11
Flat Black
Light Blue Tint
Chrome
Chrome OH5
Malaysia
P2095
4
Daija
Symbolic
Green 
Silver & Black Dragon
Silver
Tinted
Silver
Gold OH5
Malaysia
P2116
5
Boltz
Motoblade
Clear & White
White, Black & Orange "Boltz" graphics, #22
White
No Windows
ZAMAC
Red OH5
Malaysia
P2102
6
Diesel
Med-Evil
Black & Red
Black, White & Red "Diesel" Tampos #05
Unpainted
/
Metal
No Windows
Red
Chrome OH5
Malaysia
P2113
7
Cryptix
Battle Spec
Blue
Black, Orange & Sky Blue "Cryptix" Tampos #7
Unpainted
/
Meatl
Orange Tint
Orange
Black Rim, Red Lip OH5
Malaysia
P2099
8
Sleek
Monoposto
Gold
Black, Purple & Silver "Sleek" Tampos #14
Chrome
/
Plastic
Dark Purple Tint
Black
Chrome OH5
Malaysia
P2110
9
Daija
Blastous
Flat Black
Green, White & Silver "Daija" Tampos #17
Unpainted
/
Metal
Dark Green Tint
ZAMAC
Gold Chrome OH5
Malaysia
P2101
10
Boltz
Vulture
White
Black, Orange & Gray "Boltz" Tampos
Black
Black Tint
Silver
Red Chrome OH5
Malaysia
P2112
11
Sleek
Formul8r
Yellow
Black, Silver & White "Sleek" Tampos #12
Black
Light Blue Tint
Chrome
Chrome OH5
Malaysia
P2100
12
Diesel
Brutalistic
Dark Red
Black, White & Gold "Diesel" Tampos #03
Unpainted
/
Metal
Black Tint
Chrome
Chrome OH5
Malaysia
P2103
13
Sleek
RD-08
Gold
Black & Orange stripes, 13 on side
Unpainted
/
Metal
Orange Tint
Black 
Chrome OH5
Malaysia
P2105
14
Diesel
Anthracite
Dark Red
Yellow, Orange & Black "Diesel" Tampos #2
Unpainted
/
Metal
Orange Tint
Chrome
Chrome OH5
Malaysia
P2098
15
Daija
Nitrium
Olive Green
Black & White "Daija" Tampos #16
Chrome
Clear Tint
Chrome
Gold Chrome OH5
Malaysia
P2096
16
Boltz
Rivited
White
Black, Orange & Silver "Boltz" Tampos #25
Unpainted
/
Metal
Orange Tint
Chrome
Black Rim, Red Lip PR5
Malaysia
P2117
17
Cryptix
Bedlam
Blue
Black, Red, Yellow & Mettalic Blue "Cryptix" Tampos #8
Unpainted
/
Metal
Amber Orange Tint
Gold Chrome
Black Rim, Red Lip OH5
Malaysia
P2104
18
Daija
Power Pipes
Green
White Black & Golden "Daija", #18
Black
/
Metal
Clear
Chrome
Gold OH5
Malaysia
P2106
19
Boltz
Trak-Tune
Chrome
Red Black & white "Boltz" Tampos #23
Black
/
Metal
Clear
Grey & Black
Red Chrome OH5
Malaysia
P2107
20
Diesel
Chicane
Silver
Red, Black & White "Diesel", #04
Unpainted
/
Metal
Light Black Tint
Chrome
Red Chrome OH5
Malaysia
P2108
21
Cryptix
CUL8R
Mettalic Blue
Orange, Purple & White "Cryptix" Tampos #9
Black
Orange Tint
Chrome
Black Rim, Red Lip OH5
Malaysia
P2109
22
Daija
Power Pistons
Translucent Green
Gold, Silver & Black "Daija" Tampos #19
Unpainted
/
Metal
Black Tint
Grey
Gold Chrome OH5
Malaysia
P2111
23
Boltz
Pharodox
24
Cryptix
SpecTyte
Mettalic Baby Blue
Red, White & Mettalic Blue "Cryptix" Tampos #10
Unpainted
/
Metal
Red Tint
Chrome
Black Rim, Red Lip OH5
Malaysia
P2114
25
Sleek
RD-03
Yellow
Black, White & Orange "Sleek" Tampos #15
Unpainted
/
Metal
Light Blue Tint
ZAMAC
Chrome PR5
Malaysia
P2115
Gallery