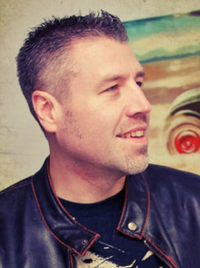 Dwayne A. Vance, Founder and Chief Designer, of Future Elements. His work can be seen of rendering a hot rod, a sketch of a futuristic concept car, or from a list of designed Hot Wheels listed below.
Dwayne, who founded the company after 8 years working in the design industry with companies like Mattel Hot Wheels and Troy Lee Designs, has an Automotive Design degree from the prestigious Art Center College of Design in Pasadena, CA. His skill as a designer and vision for the firm is deeply rooted in his love for automobiles and entertainment. He has been published in magazines and books such as Imagine FX, 2D artist, 35 Years of Hot Wheels, How to Draw Hot Wheels and his artwork was also featured in the Hot Wheels collection at the Peterson Automobile Museum in Los Angeles.
He worked at Hot Wheels from 2002 to 2005 and was the lead designer for the AcceleRacers; he returned to Mattel as a Lead Designer for Hot Wheels in October 2019. He currently acts as Design Manager, a position he has held since March 2021.
1/64 Scale
1:18th Scale
HIN Line
Mazda RX-8

Mazda RX-7

Dodge SRT-4
See also
Other