Ed Newton is a car designer who has his eyes on the future and his heart in the past. Ed created his 'LOWBOYZ' set by embracing the cars of his youth, then transforming these classic cars of character and uniqueness into visions of high-tech wizardry. When you look at one of Ed's 'LOWBOYZ', you get a strange and wonderful sense of being in two places at the same time. Ed has not customized existing cars. He has created his vehicles from design concepts - morphing classic, custom and retro designs into his own futuristic, one-of-a-kind dream cars. Cars that move fast while standing still, and glide and hover rather than roll. Study the Triclopz. Can you feel the presence of a 1948 Tucker. Look at the Rareflow and you may sense the spirit of a 1933 Chrysler Air Flow. And of course there's the Mercohaulic . Is it a 1939, or '40...or is it a classic cruiser for the new millennium?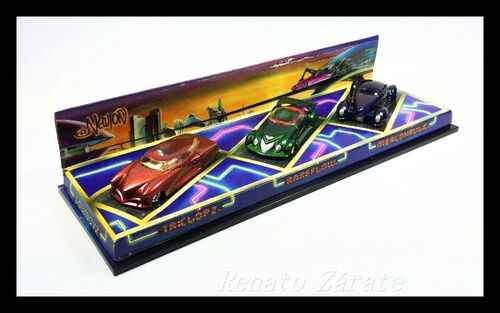 Vehicles
The following vehicles were included in the Ed Newton's Lowboyz 3-Car Set:
Gallery
Community content is available under
CC-BY-SA
unless otherwise noted.