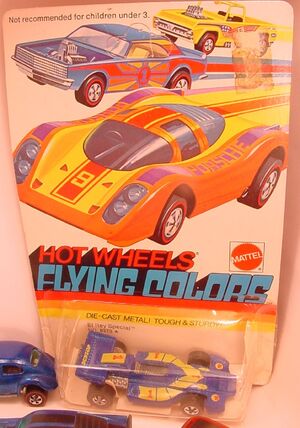 El Rey Special Description
Will the Real Flying Color paint please stand up?!? The El Rey Special runs a close race for castings with the most alternative colors.
The El Rey Special was originally released in 1974, with enamel paint and the new Flying Colors tampo. Early versions can be found with capped rear wheels and were released in the '74 style blister-pack. It is unsure which was issued first in 1974, the Light enamel Green or Dark enamel Blue; this was such a short run before the casting change to the Formula P.A.C.K. It is hard to trace the history of the name. The fact that the Formula Pack showed up mid- to late-1975 in the 6-pack, means the El Rey Special was only made for about a year and half.
Original Versions
The El Rey Special has come out in the following versions:
| Year | Series | Color | Tampo | Base Color | Window Color | Interior Color | Wheel Type | Toy # | Country | Notes / Variations | Photo |
| --- | --- | --- | --- | --- | --- | --- | --- | --- | --- | --- | --- |
| 1974 | Flying Colors | Dark Enamel Blue | Yellow and Orange "Dunlop" | Unpainted / Metal | N/A | Unpainted / Metal | RL | 8273 | Hong Kong | Capped Rear/Alt. Color | |
| 1974 | Flying Colors | Dark Enamel Blue | Yellow and Orange "Dunlop" | Unpainted / Metal | N/A | Unpainted / Metal | RL | 8273 | Hong Kong | Alt. Color | |
| 1974 | Flying Colors | Light  Enamel Green | Yellow and Orange "Dunlop" | Unpainted / Metal | N/A | Unpainted / Metal | RL | 8273 | Hong Kong | Capped Rear/Alt. Color | |
| 1974 | Flying Colors | Light Enamel Green | Yellow and Orange "Dunlop" | Unpainted / Metal | N/A | Unpainted / Metal | RL | 8273 | Hong Kong | Alt. Color | |
| 1974 | Flying Colors | Light  Enamel Blue | Yellow and Orange "Dunlop" | Unpainted / Metal | N/A | Unpainted / Metal | RL | 8273 | Hong Kong | Alt. Color | |
| 1975 | Flying Colors | Dark Enamel Green | Yellow and Orange "Dunlop" | Unpainted / Metal | N/A | Unpainted / Metal | RL | 8273 | Hong Kong | | |
Gallery
Similar Castings Below
Re-Cast Versions
The El Rey Special has come out in the following versions:
| Col # | Year | Series | Color | Tampo | Base Color | Window Color | Interior Color | Wheel Type | Toy # | Country | Notes / Variations | Photo |
| --- | --- | --- | --- | --- | --- | --- | --- | --- | --- | --- | --- | --- |
| | 2011 | 2011 The Hot Ones | Green | Red, Yellow & Black tampos, "2" | Unpainted / Metal | N/A | Unpainted / Metal | BW | W1550 | Thailand | Base Code(s): | |
| | 2012 | 2012 The Hot Ones | Black | Yellow & Gold stripes, "8", "El Rey Special" | Unpainted / Metal | N/A | Unpainted / Metal | Gold BW | W3785 | Thailand | Base Code(s): | |
| N/A | 2013 | Flying Customs Series | Metallic Brown | Blue, Orange and White stripes '13' | Unpainted / Metal | N/A | Unpainted / Metal | BW | X8216 | Thailand | Base Code(s): F09, F11 | |
Gallery