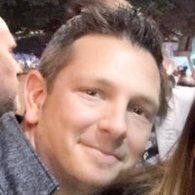 Eric Tscherne is a 2011 Inductee of the Diecast Hall of Fame and was a Hot Wheels Designer from 1998 through 2004. He is best known for ushering in many of the import tuner type cars. He also developed realistic original designs like Muscle Tone, 40 Somethin' and Switchback. The realistically styled originals and the theme of revisiting past cars were both something he believed in and help make a staple of the line. Other designers continue to follow in this tradition.
Tscherne also is remembered for creating the Hot Tunerz line which lead to many of the 'Tooned, Fatbax and the poorly received Hardnoze styled cars. Tscherne went on to design cars and toys for Jada Toys (Chub City, Dub City, Import Racer, Big Tim Muscle) and created the JL Full Throttle line, featuring Designs from Chip Foose and TLC's Overhaulin'. He is also credited with overseeing the redesign of Johnny Lightning's brand look, creating its current retro-cool theme for RC2/Learning Curve. He is currently employed by Wicked Cool Toys, where he acts as a senior director of design. When not designing, he plays cornhole competitively on the side.
1/64 Scale
Honda Civic
Chevy S-10
Cadillac Escalade
Toyota Supra
Acura Integra Type R
Nissan Skyline GT-R
Ford Mustang GT Convertible (tooled but not released)
Subaru WRX
Acura RSX Type S

Honda Civic Si
Ford Focus
Ferrari 360 Modena GT
Dodge Viper GTSR
Hummer H2
Hummer H2 SUT
Lincoln Navigator 
Ford F150 SVT
Nissan 350Z (tooled but not released)
Mitsubishi Eclipse GS-T Spyder
Community content is available under
CC-BY-SA
unless otherwise noted.