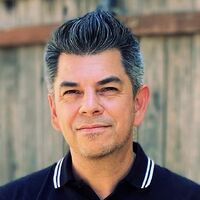 Fraser Lee Campbell joined the Hot Wheels Design Team in 2000 after working in Mattel's UK Office. After the office was shut down Fraser continued on working on various items as a contractor until he was persuaded to move stateside.
Fraser spent the majority of his time developing more toyetic concepts as well as being the principal designer for the Monster Jam line and the Power Rigs. Still, Campbell always contributed hot designs to the line each year beginning with his first: the Maelstrom. Many of Campbell's designs pay homage to his British heritage like Fish'd & Chip'd, Lotus Esprit and the Cockney Cab II.
Fraser is also known for some of his interesting 1/18th motorcycle designs like Twin Flame and a Ferrari powered concept and worked on almost every product the brand produces by virtue of his location in Hong Kong before relocating to California. Campbell left Mattel in early 2016 to join Hackrod, an automotive design company started by ex-Mattel and Hot Wheels designer Felix Holst, in addition to running his own design firm, Campbell Design LLC. He left Hackrod in mid-2020 after the company closed; he returned to Mattel in June 2021 as a designer.
1/64 Scale
Haulers, Trucks, & Motorcycles
Over the years, Fraser has worked on many of the Haulers and Truckin' Transporters for the Hot Wheels line. He brings a wide variety of designs to these trucks from exotic futuristic rigs to modern ones that could easily hit today's highways. He has also worked on the larger-scale Hot Wheels motorcycles like the Twin Flame and Ferenzo.

The Monster Jam line is where Fraser has done a lot of his work. Many of the monster trucks have been designed or shrunk to small scale by him. So far the Monster Jam trucks have been a smashing hit In fact, the Batman, Superman, TMNT, Spiderman, Wolverine and Taz were all designed small first and then made into real trucks for Monster Jam.
Some of his works include:
Avenger
Grave Digger
Backdraft

Taz
Prime Evil
War Wizard

Illimonator
The Beast
Teenage Mutant Ninja Turtles
See also