Gran Turismo is a video game series developed by Polyphony Digital for the Playstation console. It is a racing style game known for its large selection of vehicles. Since debuting in 1997, the series has sold over 77 million copies making it the highest-selling franchise for Playstation. Hot Wheels has made several series in conjunction with the game.
2016 Gran Turismo Series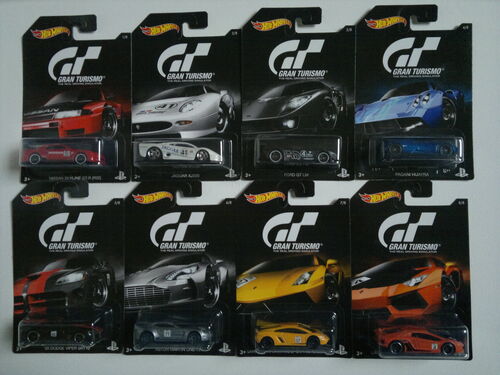 The Gran Turismo Series features 8 different models that first showed up in Europe retail stores in April 2016. In the United States the series was a "Hobby Exclusive", meaning none of the big box retail stores were able to order them. The first US-based cases appeared in late May of 2016. Some of the models first appeared in Gran Turismo 5 while the rest appeared in its successor, Gran Turismo 6. The Jaguar XJ220, first appeared in its racing-modified form in the original PlayStation-exclusive Gran Turismo 2.
2016 Gallery
2018 Gran Turismo Series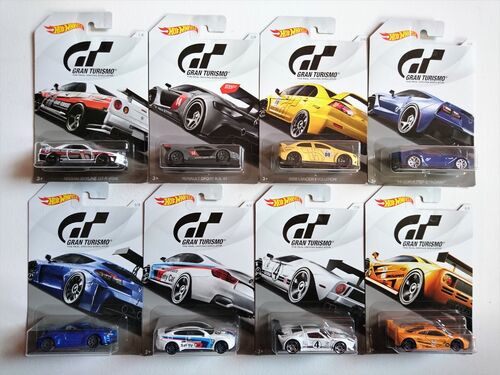 Col #
Toy #
Casting Name
Color
Tampos
Wheel Type
Notes
Photo - Car
Photo - Card
1/8
FKF27
Nissan Skyline GT-R (R34)
White
Red & Black Stripes on side, Red Stripe on Top, 'Nissan' on hood, and 'Gran Turismo' on side and hood
Black OH5
Base code(s):

L09, L17, L31 

2/8
FKF28
Renault Sport R.S. 01
Gray
'Gran Turismo' on Hood, '14' on sides
Gray Y5
Base code(s):

L09, L17, L22, L31 

3/8
FKF29
2008 Lancer Evolution
Yellow
Large Gran Turismo Logo on side, '08' on sides and hood
Black 10SP
Base code(s):

L09, L17, L22 

4/8
FKF30
'14 Corvette Stingray
Blue
Small Gran Turismo Logos on side and hood, Details
Y5
Base code(s):

L09, L17 

5/8
FKF31
Renault Megane Trophy
Blue
Blue Stripes on hood and roof, Headlights
Gray 10SP
Base code(s):

L09, L17, L22, L31 

6/8
FKF32
BMW M4
White
Red, Light Blue & Dark Blue Stripes on hood, 'M Performance Safety Car' on side
Gray PR5
Base code(s):

L09, L17, L22 

7/8
FKF33
Ford GT
White
Black Stripes on Top and Sides, '04' and Sponsors Logos
PR5
Base code(s):

L09, L17 

8/8
FKF34
McLaren F1 GTR
Orange
'McLaren' on hood and sides, Sponsors Logos
Gray PR5
Base code(s):

L09, L17, L22, L31 
2018 Gallery