Set 1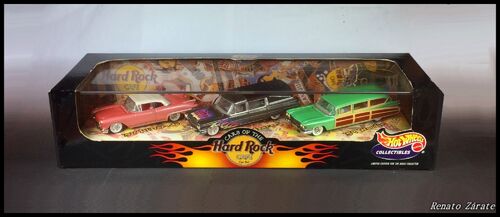 From its beginning in 1971, the Hard Rock Cafe has been a celebration of rock music and its culture. Often called the Smithsonian of Rock 'n' Roll, it boasts the most extensive collection of rock music memorabilia in the world.
As cool cars and rock 'n' roll go hand-in-hand, the cafe chose Cadillac as its symbol of the musical revolution. These Cadillac cars came from a time when size mattered - and if bigger meant better, these beauties were the best.
The Hard Rock Cafe set includes a 1959 Eldorado Woodie, complete with surfboards, a '63 Fleetwood that's to die for, and a '57 Eldorado Biarritz convertible that is as sleek as the slicked-back hairdo on the guy behind the wheel.
You'll be livin' large with these three land yachts, from Hot Wheels Collectibles.
Vehicles
The following vehicles were included in the Hard Rock Cafe 3-Car Set (20977):
Set 2
This second Cars of the Hard Rock Cafe is proof that shark movies aren't the only sequels to generate excitement with a dramatic display of fins. Hot Wheels Collectibles has replicated three more classic Cadillac models - the signature vehicles of the Hard Rock Cafe.
This Hard Rock Cafe set pays homage to a time during which rebels were without causes, the wild and the innocent danced dirty 'til dawn, and when the marriage of rhythm & blues and rock 'n' roll was celebrated on an open road with the radio up, the top down - doin' 100 mph.
This cool sequel features a '59 and 63 Coupe de Ville, and a '59 convertible. And they rock!
Vehicles
The following vehicles were included in the Hard Rock Cafe 3-Car Set - 2 (27835):
See Also
Community content is available under
CC-BY-SA
unless otherwise noted.