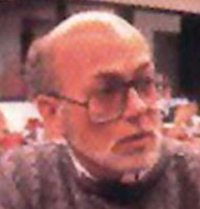 Harry Bentley Bradley is often considered the father of Hot Wheels designs; as Hot Wheels's very first designer, he created the original "Sweet 16" cars of 1968, along with co-credit on the Custom Volkswagen where he teamed up with Ira Gilford. Bradley worked for Mattel from 1966 to 1969.
Prior to working for Hot Wheels, Bradley worked for General Motors; his ties were GM were pivotal to the creation of some of the earliest Hot Wheels models, particularly the Custom Corvette. Lore has it that Bradley drove to Detroit in 1967 and snuck into GM's offices; he then took the blueprints for the upcoming 1968 Corvette and hid them in his walking cane (he suffered from polio), then drove back to California where he designed the model off those blueprints. In the end, the Hot Wheels version of the Corvette came out before the actual Corvette hit dealerships, much to GM's consternation.
He left Mattel after the 1968 cars were released as he thought that Hot Wheels cars would be just another average or fad toy brand. This held true for a time as Hot Wheels as a brand was not making any money with Mattel many a time considering killing off the brand, although in retrospect, he should have stayed and continued designing as they began turning a profit quickly during the mid '70s. Bradley then went on to become a lecturer at the Art Central College of Design, the institute from which many future Hot Wheels designers would graduate.
1/64 Scale
Gallery
See also