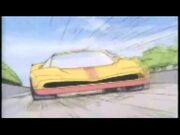 Heroes on Hot Wheels starring Michel Vaillant were sold in 1991 - 1992.
They are a set of twelve VHS video tapes packaged with an exclusive Hot Wheels car that wasn't sold separately.
Each video tape features two Hot Wheels cartoons and are approximately 45 minutes long. The cartoons were produced by Jetlag Productions. Originally the cartoons where made in France for the Michel Vaillant Cartoon series in 1990 with 65 episodes. In 1991, the cartoons where sent to the West where they were re dubbed for an English audience and repackaged with the Hot Wheels Licensing.
In total there is 6 VHS tapes and 6 "Volume #" tapes which are duplicates of the original 6 VHS tapes. There is also one Mail-in VHS with only 1 episode (unlike the other with 2 episodes) that possibly came in with the Street Roader included.
One additional casting, the Street Roader, was originally planned for use in this series of boxed sets; it was however too big to fit into the package. It was later sold in baggies only.
Released
Car Name
Color
Tampo
Base Color / Type
Window Color
Interior Color
Wheel Type
NOTES
Photo
Shadow Jet
Pink
Black "Inter Cooled" and Red "F-3" on top
Unpainted Metal
Black Tint
Pink
BW
'80s Firebird
White
Blue, Red "V"
Black / Plastic
Clear
Red
BW
GT Racer
Met. Silver
Yellow, White, Purple "5"
Unpainted metal
Black tint
Black
BW
Pontiac Banshee
Blue
Blue & Yellow squiggles
unpainted / Metal
Black
unseen
UH
Zender Fact 4
Metallic Purple
Green, Yellow "36"
Black Plastic
Clear
Grey
UH
Turbo Streak
White
Black, Red "V" "1"
Unpainted / Metal
N/A
Unpainted / Metal
BW
T-Bucket
Bright Yellow-Green
Red & Purple flames
Unpainted / Metal
Clear
Pink
BW
Baja Bug
Metallic Red
Red & Yellow flames, Blue "BLAZIN' BUG"
Unpainted / Metal
N/A
Red
BW
Sol-Aire CX-4
Red
Orange, Yellow, Black "GTS" "13"
Unpainted / Metal
Yellow
unseen
UH
Porsche 911
Black
White, Yellow, Red, "95"
unpainted metal
Black tint
Black
BW
Wind Splitter
Yellow
Purple, Blue and Orange on top
Unpainted / Metal
Black
unseen
UH
Speed Shark
White
no tampo
Blue Plastic
Chrome
Red
BW
Flashfire
Hot pink
Green, Purple, Yellow "TURBO"
Pink Plastic
Yellow Tint
Blue
UH
Buick Stocker
Yellow
Red "3" on sides & top
Black Plastic
Black Tint
Black
BW
Street Roader
Neon green
Magenta, white and purple "pulse" design
Unpainted Metal
Clear
Hot pink
CT
MIGHT NEED TO BE CORRECTED!?


A VHS with only one Cartoon "The Speed Record" is packaged differently. Unlike the other VHS, the back of this VHS has no content other than a mailing address to the Technicolor Video Cassette. Is it possible that within a promotion, as part of a mail-in deal, you got this VHS and the Street Roader in a baggie?
VHS tapes
It is unknown definetivly if each VHS tape had 2-3 cars assigned to it, or randomly added. Likewise it is not exact which VHS each car can be found in.
Below are the 6 VHS (and their "Volumes" versions) that are apart of the Heroes on Hot Wheels:
| Volume # | VHS Picture | VHS "Volume" Picture | VHS Movie 1 | VHS Movie 2 |
| --- | --- | --- | --- | --- |
| 1 | | | Valiant vs Valiant | Highway Pirate |
| 2 | | | Stunts | Terror In Tahoe |
| 3 | | | Driver Of Steel | Red Handed |
| 4 | | | Lakeside Rally | The Spy |
| 5 | | | The Venice Carnival | Panic On The Pan-America |
| 6 | | | Race To The Future | The Rally |
| Mail- In | | N/A | The Speed Record | N/A |