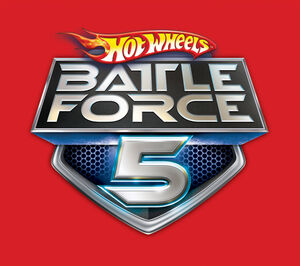 Hot Wheels: Battle Force 5 is an American 3D CGI animated television series created by Mattel and NerdCorps. The US-version of the series debuted on Cartoon Network on August 28, 2009. There were two seasons, with the last episode airing on July 16, 2011.
The first trailer for the series was released on the official Battle Force 5 website[1] on June 25, 2009.
The show features the epic adventures of a team of teen drivers, protecting the Earth against aliens and robots in amazing, interdimensional battlezones!
Characters & Vehicles
Battle Force 5
The Sark
The Vandals
Battle Force 5 Fused
The following verhicles have come out in the Battle Force 5 Fused series:
| Name | Year | Color | Tampo | Base Color / Type | Window Color | Interior Color | Wheel Type | Toy # | Country | Notes / Variations | Photo |
| --- | --- | --- | --- | --- | --- | --- | --- | --- | --- | --- | --- |
| Tangler ATV | 2011 | Transparent Blue | White windows w/ Silver symbols | Pearl Purple / Metal | White | Pearl Purple | Chrome & Transparent Blue OR5SP | T5901 | China | Base code(s): 2941AZ | |
| Zelix | 2011 | Black | None | Black / Metal | Tinted (Black) | Black | Black & Transparent Black PR5 | T5895 | China | Base code(s): 2841AZ | |
| GearSlammer | 2011 | Light Grey | Pearl Steel Blue stripe on top, Pearl Steel Blue details, Blue windscreen | Metalflake Steel Blue / Metal | Blue | None | OR6SP & Black Micro5SP | T8888 | China | Base code(s): 2791AZ | |
| Saber | 2011 | Red | Black window on underside, Silver details on top, Red details on underside | Unpainted / Metal | Black | Black | Chrome & Black PR5 / Transparent Blue Micro5SP | T5895 | China | Base code(s): 2791AZ | |
| Buster Tank | 2011 | Blue | Silver tampos across top, Black windows | Blue / Plastic | Black | None | OH5SP | T5896 | China | Base code(s): 2721AZ | |
| Reverb | 2011 | Dark Blue | Black stripe across top, Black & Silver grille | Unpainted / Metal | Black | None | Chrome & Black OH5SP | V0375 | China | | |
| Reverb | 2011 | Transparent Blue | Silver symbols on top, Black & Silver grille | Pearl Steel Blue / Metal | White | White | Chrome & Transparent Blue OH5SP | T5900 | China | Base code(s): 3021AZ | |
| Water Slaughter | 2011 | Blue & Light Blue | None | Beige / Plastic | None | None | Silver & Red OH5SP | V0381 | China | Base code(s): 2941AZ | |
| Fangore | 2011 | Olive Green | Brown covers on fenders, Silver details, Red ball on tail | Metalflake Copper / Metal | None | Olive Green | BFFOH5SP | T5887 | China | Base code(s): 2821AZ | |
See Also
Cite error: <ref> tags exist, but no <references/> tag was found