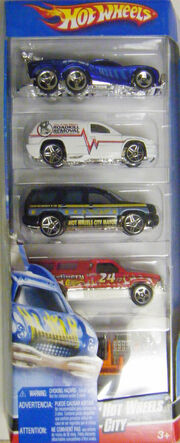 Released in 2007, the Hot Wheels City 5-Pack featured five "work" vehicles. Released again in late 2008, the 5-Pack was renamed City Sets. Differences in the two releases were posted by diecast_lover on the HWC.com Variations and Error forum ( Hot Wheels City 5 Pack New Variations ).
Other than the base saying Thailand or China, the following differences exist:
Fandango - The red stripe on the China version is a little darker red than the Thailand version. The large stripe on the door is gray in the Thailand version and black in the China version.
'07 Chevy Tahoe - The wide horizontal stripe is blue metallic on the China version and silver on the Thailand version.
Dodge Ram 1500 - The China version's tampos have a black outline while the Thailand version is outlined in gold. The China version's windows are tinted while the Thailand version has yellow windows. On the round tampo on the cab extension panel the HW flame logo goes from front-to-rear on the Thailand version and rear-to-front on the China release.
China Release
The following cars were in the China Version of the Hot Wheels City 5-Pack:
| Casting Name | Body Color | Base Color | Window Color | Interior Color | Wheel Type | Country | Notes/Variations | Photo |
| --- | --- | --- | --- | --- | --- | --- | --- | --- |
| Tow Jam | Metallic Dark Blue | Chrome Plastic | Black | No Interior | Chrome 3SP | China | Also came with 5SP. | |
| Fandango | White | Chrome Plastic | Tinted | Black | Chrome PR5 | China | | |
| '07 Chevy Tahoe | Black | Chrome Plastic | Blue Tint | Black | Chrome PR5 | China | New Model | |
| Dodge Ram 1500 | Red | White Plastic | Tinted | Chrome | Chrome 5SP | China | | |
| Old Number 5.5 | Orange | Chrome Plastic | No Windows | Black | Chrome 5SP | China | | |
Thailand Release
The following cars were in the Thailand Version of the Hot Wheels City 5-Pack:
| Casting Name | Body Color | Base Color | Window Color | Interior Color | Wheel Type | Country | Notes/Variations | Photo |
| --- | --- | --- | --- | --- | --- | --- | --- | --- |
| Tow Jam | Metallic Dark Blue | Chrome Plastic | Black | No Interior | Chrome 3SP | Thailand | Also came with PR5. | |
| Fandango | White | Chrome Plastic | Tinted | Black | Chrome PR5 | Thailand | | |
| '07 Chevy Tahoe | Black | Chrome Plastic | Blue Tint | Black | Chrome PR5 | Thailand | Also had a dark blue tampo variation | |
| Dodge Ram 1500 | Red | White Plastic | Tinted | Chrome | Chrome 5SP | Thailand | | |
| Old Number 5.5 | Orange | Chrome Plastic | No Windows | Black | Chrome 5SP | Thailand | | |