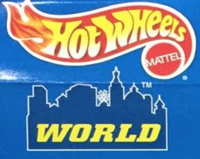 Hot Wheels World sets, which began selling in 1997 as the successor to Street Traxx, Sto & Go and Hot Wheels Auto City, are part of a Hot Wheels track system designed to look like a futuristic city. They have track called "E-Z Snap" that is used for making the owner's track their dream city. From 1997 to around 1999, the sets made were normal and realistic with some stunt elements sprinkled in, then around 2000, sets like the Powershift Garage and Crash Test started the trend of Hot Wheels World-compatible sets focusing on stunts and crashes more than an actual city.
In late 2003, some Hot Wheels World sets were re-released under the short-lived "Heat Street" (usually shown as "HEAT ST." on a street sign/skyline logo) banner, like the 2001 McDonald's, Jet Port, Copter Chase, etc. These "Heat Street" sets are most likely from outside of the US.
The last Hot Wheels World-compatible set was the Drag Strip Duel, or Speedtrap Raceway, released in 2005. These sets were discontinued as of December 2005, but sold in stores until they ran out and could not restock.
Over the years, even back when Hot Wheels World sets were still available in stores, Mattel has re-released some Hot Wheels World sets, some examples being the 1997 set Car Crusher in 2003, 2005 and January 2011, the 1997 set Ford Dealership in 2005 as Auto Showroom, the 1998 set Cement Loading Dock in 2005 as Nitrox Mine, and the 2000 set Gas Station as Turbo Garage in 2005.
Many playsets from the Hot Wheels World and Hot Wheels Heat Street line were later reissued as part of the Turbo Town line as late as 2005 until the final sets from that line were released in 2013, reissues of Crash Curve and Radical Roadway. Apart from some new colors and stickers, the sets used the same backwards-compatible "EZ-snap" track pieces as their original counterparts.
1997
Item #
Name
Photo
Cars Included
65692

McDonald's Restaurant

Classic Cobra
65696

Police Station

Velocitor
65697

McDonald's Restaurant

'97 Corvette
65738

Police Chase Playtrack

Velocitor
65790

McDonald's Restaurant

1996 Mustang GT
65829

McDonald's Playset

Corvette Coupe

McDonald's Hauler

Small Police Station

Ford Dealership

Blimp Port

Blimp

Oil Refinery

Super Electronic Garage

Super Highway

Car Crusher

Cement Loading Dock

Car Wash

Gas Station

McDonald's Deluxe Playset

Deluxe Car Crusher

Road Construction

Truck Stop

Hot Wheels adapter track

(a 1.25" long piece of Hot Wheels converter/adapter track that can be

ordered through the mail through Mattel. It allows for the much older

3" wide Hot Wheels Street Traxx track system sold from

1993-1996 to connect to the newer 4" wide Hot Wheels World track system)
1998
Item #
Name
Photo
Cars Included
65830

Gas Station Playset

Pontiac Banshee

Hot Wheels Team Racing Hauler

65830-91

Deluxe Gas Station

65870

Cement Loading Dock

(reissue)

(Kmart Exclusive)

65875

Construction Playset

Peterbilt Dump Truck
67584

Small Car Wash

'67 Camaro
65789

Shell Gas Station

(a reissue of the 1997 Hot Wheels Gas Station in Shell stickers and colors)

'57 Chevy
Crash Curve

Radical Roadway

Road Race

Night Wrecker

Fire Station

Car Wash (reissue)

McDonald's Restaurant

(reissue)

Cement Loading Dock

(reissue)

Oil Refinery

(reissue)

Iveco Petrol Tanker

Small Police Station

(reissue)

Construction

Road Construction

(reissue)

Super Highway

(reissue)

FedEx World Service Center

Super Electronic Garage

(reissue)

Super Electronic City Center
1999
2000
Item #
Name
Photo
Cars Included
25565
Electronic PowerShift Garage

28707
Shark Park

47106
Ultimate Hot Rod Racing (reissue)

65696

Police Station

(with Bank) (reissue)

Oldsmobile Aurora

Hot Rod Boulevard

65697

Gas Station

(new design)

Dodge Viper RT/10
88217

Rescue Center

(a reissue of the Small Police Station from 1997 with rescue-themed stickers and colors)

Dodge Caravan
88461

McDonald's Restaurant

(new design)

Oldsmobile Aurora

Detail Center

Metro-Tech Police Force

Highway Police Chase

Auto Dealership

(a reissue of the Ferrari Dealership without the Ferrari branding)

Pro-Tune Auto Center

(reissue of the NASCAR Playset without NASCAR branding)

Super Highway

(reissue)

Super Police HQ
2001
Item #
Name
Photo
Cars Included
47015

Power Express Train Set

Corvette Stingray III
64659
Ultimate Ford Complex (reissue)

Ford Thunderbird (unassembled)

Gas Station

(reissue of 2000 Gas Station with new stickers and colors)

Power Shift Train Set

Crash Test

McDonald's Restaurant

(reissue of 2000 McDonald's with new colors)

America's Highway 9-in-1

Go-Kart Test Track

Nitro Hill Race
2002
Item #
Name
Photo
Cars Included
47084

Ultimate Service Center

(Toys "R" Us Exclusive)

'32 Ford Vicky

Deluxe World

Hot Wheels Garage

Deluxe Auto Chase

(reissue of Highway Police Chase)

Car Wash (reissue)

Jet Port

Detail Center

Service Center

Speed Shift Duel

Cliff Race

Tow & Tune

Ultimate Service Station
2003
Item #
Name
Photo
Cars Included
47143

Metro 3-Pack

Detail Center Playset
Crash Test Playset
Copter Chase Playset

Fandango

Race & Chase

(reissue of Police Chase)

Metro City Police Force

(a Heat Street series reissue of Metro-Tech Police Force with different colors and stickers)

Copter Chase

(Part of the Heat Street series)
2004
Item #
Name
Photo
Cars Included

Bank Alarm


(a Heat Street series reissue of the 1997 Police Station with new colors and stickers)

McDonald's Restaurant

(Heat Street series reissue)

Detail Center

(Heat Street reissue)

Nitrox Mine


(a Heat Street series reissue of the Cement Loading Dock in different colors and stickers)

Tuner City
Tiger Terror
(although not a Hot Wheels World branded set,
it is still compatible and can connect to other sets)
2005
| Item # | Name | Photo | Cars Included |
| --- | --- | --- | --- |
| H7046 | Freeway Chase | | |
| | Drag Strip Duel | | |
See Also
External Link
GiggleBlaggle Toys' Brief History of Hot Wheels World playsets on YouTube