Eagle MK2 or AAR Eagle-Weslake/Ford T2G
All American Racers is an American auto racing team founded by Dan Gurney and Carroll Shelby in 1964. All American Racers initially participated in American sports car and Champ Car races as well as international Formula One events with cars named Eagle. The Eagle T1G, powered by an obsolete Coventry Climax engine, debuted at the 1966 Belgian Grand Prix. The design of the Mk1, and its Indy sister design the Mk2, are essentially the same chassis design.  The MK2 was designed to accept the quad-cam Ford V8 that had powered the 1966 Indy 500 winner.
Jochen Rindt drove the #48 at Indy in 1967, but the race was dominated by Parnelli Jones in the radically new, four-wheel drive STP-Paxton Turbocar or Shelby Turbine entered by Andy Granatelli.
Notice the Eagle "Beak Nose" on AAR Eagle MK cars.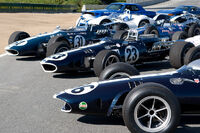 Indy Eagle Description
Indy Eagle was a car from the 1969 Grand Prix series.
Interior Colors:
All production cars have Blue tinted glass, Prototypes have been found with clear glass.
There are three types of bases, all metal: unpainted, silver painted and black painted.
Versions
The Indy Eagle came out in the following 1/64 scale versions:
| Year | Series | Color | Sticker | Base Color | Window Color | Interior Color | Wheel Type | cast# | Country | Notes / Variations | Photo |
| --- | --- | --- | --- | --- | --- | --- | --- | --- | --- | --- | --- |
| 1969 | Grand Prix | Spectraflame Red | | Metal | Blue | | RL | 6263 | HK | | |
| 1969 | Grand Prix | Spectraflame Aqua | | Metal | Blue | | RL | 6263 | HK | | |
| 1969 | Grand Prix | Spectraflame Blue | | Metal | Blue | | RL | 6263 | HK | | |
| 1969 | Grand Prix | Spectraflame Blue | | Black / Metal | Blue | | RL | 6263 | HK | | |
| 1969 | Grand Prix | Spectraflame Brown | | Metal | Blue | | RL | 6263 | HK | | |
| 1969 | Grand Prix | Spectraflame Coper | | Metal | Blue | | RL | 6263 | HK | | |
| 1969 | Grand Prix | Spectraflame Green | | Metal | Blue | | RL | 6263 | HK | | |
| 1969 | Grand Prix | Spectraflame Orange | | Metal | Blue | | RL | 6263 | HK | | |
| 1969 | Grand Prix | Spectraflame Purple | | Metal | Blue | | RL | 6263 | HK | | |
| 1969 | Grand Prix | Spectraflame Olive | | Metal | Blue | | RL | 6263 | HK | | |
| 1969 | Grand Prix | Spectraflame Gold Chrome | | Metal | Blue | | RL | 6263 | HK | | |
| 1969 | Grand Prix | Spectraflame Rose | | Metal | Blue | Black | RL | 6263 | HK | | |
| 1969 | Grand Prix | Spectraflame Red | | Metal | Blue | White | RL | 6263 | HK | | |
| 1969 | Grand Prix | Spectraflame Aqua | | Metal | Blue | White | RL | 6263 | HK | | |
| 1969 | Grand Prix | Spectraflame Green | | Metal | Blue | White | RL | 6263 | HK | | |
| 1969 | Grand Prix | Spectraflame Blue | | Metal | Blue | White | RL | 6263 | HK | | |
Gallery