Lamborghini Countach Description
Released in 1988 and based on the dreams of many from the '70's: the Lamborghini Countach. With it's beautiful futuristic lines and thrill of speed, this Italian-made car inspired many dreams and drools.
Early castings have the wing molded separately from the body. There must have been assembly or tool & die issues, because the wing was later integrated into the body, making it one piece. It was first issued with Ultra Hot Wheels and as part of the Speed Fleet series.
Versions
The Lamborghini Countach has come out in the following 1/64 scale versions:
| Col # | Year | Series | Color | Tampo | Base Color / Type | Window Color | Interior Color | Wheel Type | Toy # | Country | Notes / Variations | Photo |
| --- | --- | --- | --- | --- | --- | --- | --- | --- | --- | --- | --- | --- |
| | 1988 | Speed Fleet | White | | White / Metal | Black | N/A | UH | 4384 | Malaysia | | |
| 60 | 1989 | Hot Wheels | White | Red, Blue and Yellow "Lamborghini" logo on hood | White / Metal | Black | N/A | UH | 4384 | Malaysia | | |
| 60 | 1989 | Hot Wheels | White | Red & Blue "Countach" Sides | White / Metal | Black | N/A | UH | 4384 | Malaysia | | |
| 60 | 1989 | Hot Wheels | White | Red & Blue "Countach" sides | White / Metal | Black | N/A | UH gold | 4384 | Malaysia | | |
| N/A | 1989 | Park 'n Plates | Red | | Red / Metal | Clear | White | UH | 9222 | Malaysia | International Only | |
| | 1993 | 25th Anniversary | Gray | | Gray / Metal | Clear | Red | UH | 4384 | Malaysia | 5-pack Only | |
| 232 | 1993 | 1993 Hot Wheels | Red | White, Black "Countach" | Red / Metal | Black tint | Black | UH | 4384 | Malaysia | | |
| 232 | 1994 | Hot Wheels | Red | White, Black "Countach" | Red / Metal | Smoked tint | Black | UH Gold | 4384 | Malaysia | | |
| N/A | 1995 | Tony's Pizza Promotional | Red | | Red / Metal | Smoked tint | Black | UH | 4384 | Malaysia | Baggie Only/Mail in | |
| 429 | 1996 | 1996 Treasure Hunts Series | Fluor. Orange | Black trim details, Gold HW Logo on windshield | Fluor. Orange / Plastic | Clear | Tan | PC6 | | Malaysia | | |
| 232 | 1997 | Hot Wheels | White | No tampos | White metal | Tinted | Red | 5DOT | | Malaysia | | |
| | 2011 | The Hot Ones | Orange | Black and silver stripes, "Lamborghini" on doors | Unpainted / Metal | Orange | Silver | HO | | Thailand | | |
Similar Castings and Names
1988 Color Changers Sub Set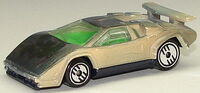 1993 Revealers Sub Set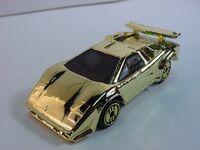 1997 First Editions Same name and similar casting
Gallery
the desciption, descibrd the 1997