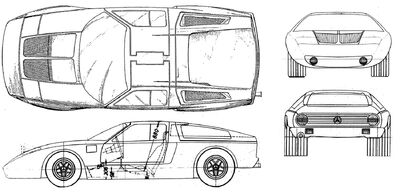 Description
The prototype vehicle never made into production but the 1974 Hot Wheels did. Released in Enamel Red with a bright stars & stripes tampo. This cast ran all the way to 1977 but the early version were only avaliable for a very short time. The Chrome plastic base version has not been found in Blister as of yet.
Another interesting note on early '74's is they can be found with a white undercoat, under the main enamel paint.
The Mercedes-Benz C-111 with white C-111 on rear deck with white sides. It would seem to be a production piece, In the fact I have seen most in played with condition. This is the same for the other two early runs grey and white Int. This is just a observation not fact.
Versions
This '74 Mercedes-Benz C-111 has come out in the following 1/64 scale versions:
| Year | Series | Color | Tampo | Base Color / Type | Window Color | Interior Color | Wheel Type | Toy # | Country | Notes / Variations | Photo |
| --- | --- | --- | --- | --- | --- | --- | --- | --- | --- | --- | --- |
| 1974 | Flying Colors | Enamel Red | Yellow, white & Blue stars & stripes | Metal | Blue tint | Grey | RL | 6978 | HK | capped rear wheels / grey interior | |
| 1974 | Flying Colors | Enamel Red | Yellow, white & Blue stars & stripes | Metal | | | | | HK | White "C-111" Prototype ? | |
| 1974 | Flying Colors | Enamel Red | Yellow, white & Blue stars & stripes | Metal | Blue tint | White | RL2 | 6978 | HK | capped rear wheels | |
| 1974 | Flying Colors | Enamel Red | Yellow, white & Blue stars & stripes | Metal | Blue tint | White | RL2 | 6978 | HK | | |
| 1974 | Flying Colors | Enamel Red | Yellow, white & Blue stars & stripes | Metal | Blue tint | Black | RL2 | 6978 | HK | | |
| 1975 | Flying Colors | Enamel Red | Yellow, white & Blue stars & stripes | Plastic / Chrome | Blue tint | Black | RL2 | 6978 | HK | Chrome base | |
| 1976 | Flying Colors | Enamel Red | Yellow, white & Blue stars & stripes | Plastic / Blk | Blue tint | Black | RL2 | 6978 | HK | | |
| 1977 | Flying Colors | Enamel Red | Yellow, white & Blue stars & stripes | Plastic / Blk | Blue tint | Black | BW | 6978 | HK | | |
Similar Castings and Names
1972 Spectraflame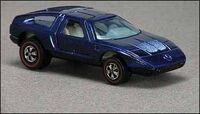 1973 Enamel Paint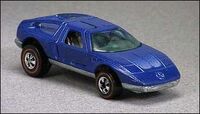 Gallery