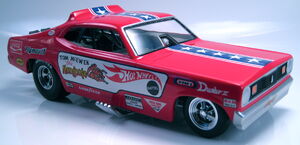 History of Tom "Mongoo$e" McEwen
Description
The Mongoo$e has come out it several versions, which seems to confuse people about either the name or the car driven by Tom McEwen. First off the only car Tom drove was a Duster, Mattel in cost saving measures started only issuing one cast( the cuda) years later with both "Mongoo$e" & "Snake" on the side. Mattel official names for the Tom "Mongoo$e" McEwen cars are easy;

Mongoose

Mongoose II

There are also Dragsters;

Mongoose Rail Dragster (front engine)

Mongoose Rear Engine Dragster (wedge)
Tom never even drove a wedge style dragster aka Rear engine. 
The "Mongoo$e" was issued in enamel Red. with lifting body to show the chassis, a prop to hold it up and a black roll cage.
Modeled after a Plymouth Duster. Was released from both the USA and Hong Kong.
Versions
The Mongoose has come out in the following 1/64 scale versions:
| Year | Series | Stickers | Base Color | Window Color | Interior Color | Wheel Type | Toy # | Country | Notes / Variations | Photo |
| --- | --- | --- | --- | --- | --- | --- | --- | --- | --- | --- |
| 1971 | 1971 | White w/ the "Goo$e" | Metal | blue tint | black roll cage | Redline | 6410 | | | |
Similar Casting
Temp links please leave Mongoose II
Mongoose II (1973)
Gallery
Re-cast 1994 Versions
The Mongoose has come out in the following 1/64 scale versions:
| Year | Series | Color / Tampo | Base Color | Window Color | Interior Color | Wheel Type | Toy # | Country | Notes / Variations | Photo |
| --- | --- | --- | --- | --- | --- | --- | --- | --- | --- | --- |
| 1994 | 1994 Vintage Series | red metallic | | | | RL | | | 25th Anniversary | |