DescriptionEdit
The Mongoose II is a Hot Wheels casting from the 1971 Hot Wheels range of vehicles. It uses the same casting as the Mongoose from 1970 except this time it has Spectraflame Blue paint and 'Mongoose II' stickers. 
It is based on the Plymouth Duster Funny Car driven by Tom 'The Mongoose' McEwen in 1970, a car sponsored by Hot Wheels in conjunction with his rival Don 'The Snake' Prudhomme.
The Hot Wheels Mongoose II was produced at both the USA and Hong Kong factories and was only made in Spectraflame Blue. The paint is prone to fading and can be found in various shades of blue. USA built cars had clear windows while Hong Kong produced cars have blue tinted windows. It came with a black roll-cage and body prop underneath its opening body. The base came in two pieces, with the engine being riveted to the bottom part.
It came on a special 'Mongoose vs Snake' card which had artwork of each car. It had its side stickers applied from the factory and a sticker sheet with flames was included in the package. It was also packaged with a plastic 'Collectors Button'.
This would be the last time the Plymouth Duster Funny Car would be used until 1994 when it was re-tooled for the Vintage Series.
The Mongoose II has come out in the following 1/64 scale versions:
| Year | Series | Stickers | Base Color | Window Color | Interior Color | Wheel Type | Toy # | Country | Notes / Variations | Photo |
| --- | --- | --- | --- | --- | --- | --- | --- | --- | --- | --- |
| 1971 | Mongoose vs Snake | Hot Wheels Logo and 'Mongoose II' on side, Red Flames on top | Unpainted / Metal | Tinted (Blue) | Black | RL | 5954 | Hong Kong | | |
| 1971 | Mongoose vs Snake | Hot Wheels Logo and 'Mongoose II' on side, Red Flames on top | Unpainted / Metal | Clear | Black | RL | 5954 | USA | | |
Similar CastingsEdit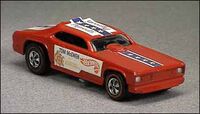 Mongoose


Mongoose II (1973)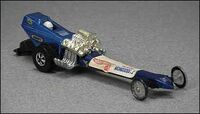 Mongoose Rail Dragster 


Rear Engine Mongoose 


Mongoose (100% Hot Wheels)