Ya ya ya it is a cuda, I know  Tom never drove a 'Cuda.
'73 Mongoose II
Mattel became a associate sponsor by 1973, For the old rivalry " Snake vs Mongoo$e" and times were tight for Mattel. They made a lot of cost saving changes for 1972 and 1973. The Goo$e never drove the 'cuda style funny car, but Mattel issued just one casting for the 1973 Mongoo$e and Snake and it was the 'cuda. All cars for '73 got the new enamel paint,  the "Mongoo$e" 'and "Snake" were no different. There were many cost cutting features one piece base, Missing windshield, enamel paint, wrong body for the Gooo$e, missing hood prop, one sticker sheet for both of "Mongoo$e" cars. These changes also affected the "Snake" too.
The '73 "Mongoo$e II" was issued in enamel Red & enamel Blue
Flaming stickers for both cars.
No Special art work for "Mongoo$e vs Snake"
Capped Rear Redlines - Open Axle Style in front
There have been found 1970 "Mongoo$e" cars in 1973 blisterpack. It would seem that were some left over cars that got tossed in the lot.
Versions
This Hot Wheels vehicle has come out in the following 1/64 scale versions:
| Year | Series | Color | Sticker | Base Color / Type | Window Color | Interior Color | Wheel Type | Toy # | Country | Notes / Variations | Photo |
| --- | --- | --- | --- | --- | --- | --- | --- | --- | --- | --- | --- |
| 1973 | List of 1973 Hot Wheels | Enamel Red | Tom McEwen stickers | Unpainted / Metal | N/A | Black Roll cage | Wheel type | 6969 | Hong Kong | | |
| 1973 | List of 1973 Hot Wheels | Enamel Blue | Tom McEwen stickers | Unpainted / Metal | N/A | Black Roll cage | Wheel type | 6969 | Hong Kong | | |
Similar Castings or Names
1970 Enamel Mongoo$e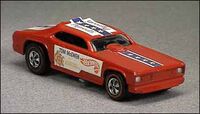 1971 Spectraflame Mongoo$e II