Description
The Nitro Doorslammer is an Hot Wheels Original Model introduced in 2007. This model is based upon the 2007 Aston Martin DB-One Concept model. They feature the same tapered rear end and curved front, though Hot Wheels iced the cake with a twin-turbocharged engine sticking out from the hood.
The Nitro Doorslammer is also playable in the Hot Wheels: Track Attack videogame. It is also an unlockable model in Hot Wheels: Beat That!.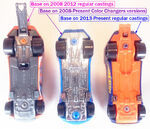 From 2008 to 2012, regular castings featured a plastic base with a flip-out, anti-wheelie bar that locks open or closed with a small plastic tab. In 2013, the casting changed so that the anti-wheelie bar is shorter, molded into the base and does not move. However, all Color Changer versions from 2008 to present have a metal base and no wheelie bar.
Versions
The Nitro Doorslammer has been released in the following 1/64th scale versions:
Col #
Year
Series
Color
Tampo
Base Color
Window Color
Interior Color
Wheel Type
Toy #
Country
Notes / Variations
Photo
3
2007
New Models
3/36
Metalflake Burgundy
White, Gold, Black & Red tampos, 'Nitro Door Slammer'
Black / Plastic
Clear
Chrome
Gold OH5
K6135
Malaysia
3
2007
New Models
3/36
Metalflake Gold
Red, Black & White tampos, 'Nitro Doorslammer'
Black / Plastic
Tinted (Blue)
Grey
Red OH5
K6135
Malaysia
Playable in Hot Wheels: Beat That!
101
2008
Track Stars
1/12
Lime Green
Black & White tampos, "S14"
Grey / Plastic
Tinted (Black)
Chrome
Black OH5
M7003
Malaysia
Variant also exists with Black Plastic base
Base code(s):
-
2008
Stunt 'N Dunk Color Shifters Playset
Blue (Warm) / Purple (Cold)
Purple & Silver flames
Unpainted / Metal
Tinted (Black)
Chrome
Black OH5 w/ Chrome rims
N4483
Thailand
Same as 2014 Stunt 'N Dunk Playset version
Base code(s):



-
2009
McDonald's
Black
Came with Stickers
Grey / Plastic
Pink
Not seen
McOH5
N/A
Vietnam
Uses the same base as seen on color changers.
Base code(s):
176
2009
Mystery Car
10/24
Metalflake Purple
Orange & White stripes
Black / Plastic
Tinted (Orange)
Chrome
Orange OH5
P2496
Malaysia
Base code(s): A42
-
2009
Racing Rig Transport
Blue
White & Black tampos, "3"
Black / Plastic
Tinted (Black)
Chrome
OH5
N3975
Malaysia
Also found in multipacks
Base code(s):
-
2009
Color Shifters
Grey (Warm) / Green (Cold)
Aqua flames on sides & across top
Unpainted / Metal
Tinted (Black)
Chrome Gold
Chrome Gold OH5
P2851
Thailand
Base code(s):
-
2009
Color Shifters Trickin' Treats 2-Pack
Yellow (Warm / Green (Cold)
Dark Green tampos on sides
Unpainted / Metal
Tinted (Yellow)
Chrome
Chrome OH5
N9468
Thailand
Target Exclusive
Base code(s):


-
2009
Color Shifters
Dark Blue (Warm) / Blue (Cold)
Black, Dark Blue, Blue & Orange stripes on sides & hood, '009', HW Logo on sides
Unpainted / Metal
Tinted (Orange)
Chrome
Chrome OH5
P7782
Thailand
Same as 2011 Easter Egg Coloring Kit Version
Base code(s):



-
2009
Color Shifters 2-Pack
Light Green (Warm) / Purple (Cold)
Purple paint splatter tampo
Unpainted / Metal
Tinted (Purple)
Chrome
Chrome OH5
P2875
Thailand
Base code(s): B37
5pk
2010
Heat Fleet
Metalflake purple
Orange & Yellow flames on sides
Black / Plastic
Tinted (Yellow)
Chrome
Purple OH5
R0966
Thailand
Base code(s): C01
-
2011
Color Shifters Easter Egg Coloring Kit
Dark Blue (Cold) / Blue (Warm)
Black, Dark Blue, Blue & Orange stripes on sides & hood, '009', HW Logo on sides
Unpainted / Metal
Tinted (Orange)
Chrome
Black OH5 w/ Chrome rims
V9200
Thailand
Same as 2009 P7782 Version
Base code(s):



123
2011
HW Drag Racers
3/10
Blue
Orange, Yellow, Purple and Black tampos, 'Nitro Doorslammer'
Grey / Plastic
Tinted (Yellow)
Chrome
Orange 5SP
T9830
Malaysia
Base code(s): D21
74 / 247
2012
Track Stars
9/15
Orange
Black, White & Blue tampos on sides, with only Black & Blue stripes on top
Dark Grey / Plastic
Tinted (Blue)
Grey
Blue Rim OH5
V5362
Malaysia
Base code(s): E02, E07
103
2013
HW Racing Race Team
3/10
Blue
Red, Yellow & White Hot Wheels Race Team deco, "9"
Black / Plastic
Tinted (Blue)
Chrome
5SP
X1741
Malaysia
Updated tooling
Base code(s): E37, E38
103
2013
HW Racing Race Team
3/10
Pearl White metallic
Blue, Red & Yellow Hot Wheels Race Team deco, "9"
Blue / Plastic
Tinted (Blue)
Blue
Chrome Red & Black PR5
X1930
Malaysia
Base code(s): E45, E49
103
2013
HW Racing Race Team
3/10
Pearl White Metallic
Blue, Red & Yellow Hot Wheels Race Team deco, "9"
Blue / Plastic
Tinted (Blue)
Blue
Chrome Red 5SP
X1930
Malaysia
Base code(s): E46
-
2014
Stunt 'N Dunk Color Changers Playset
Blue (Warm) / Purple (Cold)
Purple & Silver flames on top & sides
Unpainted / Metal
Tinted (Black)
Chrome
Black OH5 w/ Chrome rims
BHN11
Thailand
Base code(s): F41



159 / 250
2014
HW Race Thrill Racers
9/10
Matte Black
Yellow, Red & Blue HW logo on sides & across top, Blue stripes across top
Red / Plastic
Tinted (Blue)
Chrome Gold
Gold TRAP5
BFD32
Malaysia
Base code(s): G10, G11
159 / 250
2014
HW Race Thrill Racers
9/10
Blue
Yellow, Red, & Blue HW logo on sides & across top, Blue stripes across top
Orange / Plastic
Tinted (Yellow)
Chrome
Chrome & Black PR5
BFG56
Malaysia
Base code(s): G23
-
2014
Drivin' Wild Truck Set
Yellow
Black & Green stripes, Black & White checkerboard pattern & race deco on sides
Black / Plastic
Tinted (Green)
Black
Red Chrome TRAP5
BDW60
Malaysia
Base codes(s): G23
-
2014
Drivin' Wild Truck Set
Red
Silver, Black & White designs on sides
Black / Plastic
Clear
Chrome
White OH5
BDW63
Malaysia
Base codes(s): G26
-
2015
Color Changers
White (Warm) / Purple (Cold)
Orange decos, White gears & circuit designs on sides
Unpainted / Metal
Tinted (Orange)
Chrome
Black OH5 w/ Purple Chrome rims
CFM30
Thailand
Base code(s): H14


238 / 250
2016
HW Games
8/10
Metalflake Dark Blue
Red & White stripes on sides & top, HW Games logo & swimmer on sides
White / Plastic
Clear
Chrome
Chrome Red TRAP5
DHT26
Malaysia
Base code(s): J25, J27
238 / 250
2016
HW Games
8/10
Spectraflame Dark Blue
Red & White stripes on sides & top, HW Games logo, swimmer & TH logo on sides
White / Plastic
Clear
Chrome
Chrome Red RR5SP
DHT89
Malaysia
Super Treasure Hunt
Base code(s): J21
2017
Color Shifters
White (Warm) / Purple (Cold)
Orange decos, White gears & circuit designs on sides
Matte Black / Metal
Tinted (Orange)
Grey
Black OH5 w/ Purple Chrome rims
CFM30
Thailand
Base code(s): 
2017
Wild Transporter
Red
Silver, Black & White designs on sides
Black / Plastic
Clear
Chrome
White OH5
Thailand
Base code(s):
6
/
8
2018
Star Wars
Metalflake Red
Black Stripes and Darth Vader on side, 'Star Wars' on roof
Black / Plastic 
Tinted (Black)
Black
TRAP5
FKD63
Thailand
Base code(s):

L06, L07

2018
Yellow
Checkboard design on sides
Black / Plastic 
Tinted (Blue)
Chrome

Red-rim TRAP5

BDW60
Thailand
Base code(s):
-
2020
Color Shifters
Yellow (Warm) / Dark Green (Cold)
Black Stripes, Green '29', HW logo, 'RC' Logo, and 'M-Game' logo on side
Unpainted / Metal
Tinted
Chrome
Chrome OH5
DNN10
Thailand
Base code(s): M40


Gallery