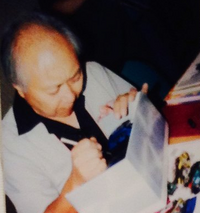 Paul Tam's lifelong dream was to design cars for General Motors. He realized that dream in the 1960's, though it was short-lived. In 1970, he then drove to California, to the offices of Mattel - makers of Hot Wheels - and said, "I want a job."
"Just like that," Paul says. "Brash."
But it worked. Paul joined with Larry Wood and Ira Gilford at Mattel in the early days of Hot Wheels cars to work as a designer and started designing some of the company's signature cars. Among them the Whip Creamer, a turbine car, which was his very first design for Hot Wheels.
"The turbine in the back was a blue-sky idea of a power source that could harness the sun's energy and drive the vehicle," said Paul. "To make the wheel spin, an opening was designed so that a kid could spin the turbine by blowing on it. The Whip Creamer was a playful and whimsical name suggested for it. Each car had to have a feature; the turbine which actually spun and you could see it, was the feature, hence the clear roof which extended all the way to the back."
Tam continued to work for Mattel until 1973. Among the many futuristic designs Tam thought up for Mattel include some of the collector's favorites such as Evil Weevil, Open Fire, Six Shooter and the rare Double Header (co-designed with Larry Wood.)
Talking about the Beach Bomb, he says, "I remember proposing another bus for the beach crowd with paisley all over it. They were rejected and discarded literally into the trash can... Someone's trash is the next man's treasure.
Paul brought home prototypes, some of them with clear, unpainted bodies, so father and son, Alec, could "test drive" them together. By 1975, however, when Alec was 5, the family moved back to Paul's native South Africa, where father and son started to bond over bigger cars. They settled in Cradock, a small town 150 miles north of Port Elizabeth, where they ran a motorcycle repair shop.
At 63, today Paul Tam runs a financing business, TAMI FIN, in his native South Africa. He continues to make public appearances at conventions, such as the one that celebrated the 40th Anniversary of Hot Wheels, and which took place in Chicago, Illinois, in May 2008.
He also has a son called Alec Tam who now works for the Hot Wheels company himself.
1/64 Scale
See also