Description
This is a lamborghini type car. It's aerodynamically flat like the battle spec.The front of the car has stability inlet and outlets.The vents on the hood outlets the intercooler to cool the 1100HP beryllium ram air twin turbocharged 72 valve 7 liter DOHC performance cam V12 with headers mid mounted engine on an carbon fiber 7 speed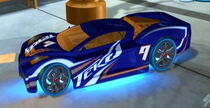 transmission. The carbon fiber body has air outlets near the ram air intake for the transmission. On the side there are air intakes for the 8 cylinder all carbon fiber caliper cross drilled and slotted 18" antilock brakes.18" front/20" rear wheels. The cockpit has a G force computer and stereo with a subwoofer and two speakers.Bucket seats with 5 point harness short shifter,interior neon,underglow neon,and scissor doors.the car has carbon fibre wheels and double wishbone suspension.
Versions
The Reverb has come out in the following 1/64 scale versions:
2013 Vertical Velocity 5-Pack Green Black,blue,and white colored tampos ZAMAC Clear Chrome PR5 G8095
Col

#

Year
Series
Color
Tampo
Base Color
Window Color
Interior Color
Wheel Type
Toy #
Country
Notes / Variations
Photo
2005
Acceleracers
Blue
Teku and #9
Zamac
Orange
Chrome
CM6
G8095
Malaysia
2006
Acceleracers Accelerons
Brick
Pink and black tampos and Acceleron Text
Zamac
Pink
Chrome
Pink Ring CM6
G8095
Malaysia
Very Very Rare Car
2007
WWEseries
Green
Red/Black Rock Tampo
Zamac
Smoked
Gold
Gold PR5
L4698
Malaysia
2008
Birthday (Wal-Mart)
Red
Yellow,Red and Black lines
Zamac
Yellow
Chrome
OH5
N1157
Malaysia
066
2009
Track Stars 12/12
Chrome
Red & Lt. Blue flames, '8' on sides
Zamac 
Light Blue
Metalflake Gray
Red 5SP
P2386
Malaysia
2012
??? (in playset)
Brick
Yellow
Zamac
Yellow
Chrome
OH5
W9049
China
Included in "Super Loop" set
Thailand

Front Wheels too small

gallery
Community content is available under
CC-BY-SA
unless otherwise noted.