STP-Paxton Turbocar History
By Turbo, it is not the Turbo you stick on the exhaust, to make forced induction. It is a Turbine engine. From Wikipedia STP-Paxton Turbocar
The STP-Paxton Turbocar was a racing car, designed by Ken Wallis as the STP entry in the Indianapolis 500.

Wallis, a distant relative of famed British engineer Barnes Wallis, had developed a workable plan for harnessing a gas turbine to a race car. He first presented the idea to Dan Gurney, who passed on the idea. Wallis then offered the plan to Carroll Shelby and Shelby said (according to later court testimony), "Hogwash." Finally, Andy Granatelli of STP expressed interest in the concept. Wallis and his crew moved in with Andy's brother Joe at STP's Paxton division in Santa Monica, and they began work on the turbocar in January 1966. It was Granatelli who introduced a side-by-side concept—that is, putting the engine at the driver's left. Granatelli also added four-wheel drive to the design.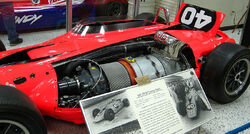 So why did Mattel use the term "Shelby"? Why not "STP" or "Granatelli".
Wikipedia is WRONG !
Ken Wallis designed and built the STP Paxton turbocar for Granatelli. It was not ready in time for the 66 Indy 500. In 67 it retired from the lead with 3 laps to go. In 68 it crashed in practice & never raced again. Meanwhile Wallis went on to design a similar car for Carrol Shelby who entered 2 cars for the 68 Indy 500 for Denny Hulme & Bruce McLaren but these were withdrawn "for safety" following Mike Spence's fatal crash while practicing in a Lotus 56 Turbocar. (The real reason was they actually did not comply with the 68 Indy regulations...)
Hot Wheels modelled the Shelby car which never raced.
Source: Turbine Grand Prix by Gerard Crombac
Interesting that this type of engine would go on and power many other things, M1 Abrams.
Description
Shelby Turbine was a car from the 1969 Hot Wheels series.
Interior Colors :
Black - by far the most common color
Gray / Champagne - can be found in most colors
White - extremely rare, thought to be prototypes, salesman samples, or made for photo shoots
The Cars were packaged with a metal 'Collector's Button'.
Versions
The Shelby Turbine has come out in the following versions:
Year
Series
Color
Sticker
Base Color / Type
Window Color
Interior Color
Wheel Type
cast#
Country
Notes
Photo
1969
Grand Prix
Spectraflame Blue
Hot Wheels Flame right Side on Base-Body
Unpainted
/
Metal
Blue
Black
RL
6265
Hong Kong
1969
Grand Prix
Spectraflame Light Purple
Hot Wheels Flame right Side on Base-Body
Unpainted
/
Metal
Blue
Black
RL
6265
HK
1969
Grand Prix
Spectraflame Dark Purple
Hot Wheels Flame right Side on Base-Body
Unpainted
/
Metal
Blue
Black
RL
6265
HK
1969
Grand Prix
Spectraflame Aqua
Hot Wheels Flame right Side on Base-Body
Unpainted
/
Metal
Blue
Black
RL
6265
HK
1969
Grand Prix
Spectraflame Red
Hot Wheels Flame right Side on Base-Body
Unpainted
/
Metal
Blue
Black
RL
6265
HK
Capped  RL
1969
Grand Prix
Spectraflame Red
Hot Wheels Flame right Side on Base-Body
Unpainted
/
Metal
Blue
Black
RL
6265
HK
Bushing RL
1969
Grand Prix
Spectraflame Green
Hot Wheels Flame right Side on Base-Body
Unpainted
/
Metal
Blue
Black
RL
6265
HK
1969
Grand Prix
Spectraflame Olive
Hot Wheels Flame right Side on Base-Body
Unpainted
/
Metal
Blue
Black
RL
6265
HK
1969
Grand Prix
Spectraflame Orange
Hot Wheels Flame right Side on Base-Body
Unpainted
/
Metal
Blue
Black
RL
6265
HK
1969
Grand Prix
Spectraflame Copper
Hot Wheels Flame right Side on Base-Body
Unpainted
/
Metal
Blue
Black
RL
6265
HK
1969
Grand Prix
Spectraflame Watermelon
Hot Wheels Flame right Side on Base-Body
Unpainted
/
Metal
Blue
Black
RL
6265
HK
1969
Grand Prix
Spectraflame Brown
Hot Wheels Flame right Side on Base-Body
Unpainted
/
Metal
Blue
Black
RL
6265
HK
1969
Grand Prix
Spectraflame Light Green
Hot Wheels Flame right Side on Base-Body
Unpainted
/
Metal
Blue
Black
RL
6265
HK
Gallery