The Silencerz are a very secretive team in the Acceleracers series. They have technology which allows them to transform their cars into others and even appear to be the other driver, however, they have purple goggles which allows them to distinguish from the actual driver, allowing Taro Kitano to knock one off the track who was impersonating Kurt Wylde and his Battle Spec.
Vehicles
The following is a list of vehicles that belonged to the Silencerz.
Trivia
The Silencerz have suits that turn whatever they say into electronic noises, so no one knows what they are talking about.
A Silencer impersonated Kurt Wylde to grab the AcceleCharger in the Metro Realm.
A Silencer impersonated Karma Eiss, and caused Taro to crash in the Ice Realm.
Gallery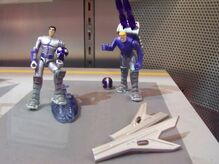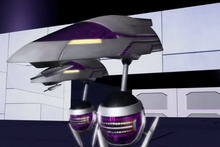 Community content is available under
CC-BY-SA
unless otherwise noted.