Description
Spine Buster is a modern supercar-like vehicle. It was introduced in the AcceleRacers series. In the series, it is the beloved car of Mark Wylde, built after his Corvette Stingray was impounded.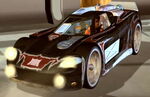 The car has a 455hp ram exhaust V10 engine with nitromethane-burning ram air intake and magnesium steel alloy wheel rims. This V10 has custom-built exhaust pipes, with half running to the left slightly above the body, while the other half of the pipes run right and below the body. The intake goes into the furnace on the right of the vehicle, then slingshots the exhaust to the chamber on top the engine and to the spines on the tail, then out the back. This produces a deep hissing sound when the car moves and is what gave Spine Buster its name. Spine Buster has many features to save weight; It does not have front fenders and there are deep pockets on the sides that draw air to the rear brake inlets. The car has swooping rear fenders and a steel, solid angled spoiler that weighs down the back.
If the front wheels go past the body, then this car cannot steer and this weight distribution makes for terrible handling. Although this car was normally driven by Wylde, in the Metro Realm Acceleracers movie, this car was driven by Monkey McClurg, but was destroyed by a W1 drone and a drone sweeper. The car was subsequently replaced by Flathead Fury.
The casting features no shift lever and uniquely, open radiator outlets, one of a few Hot Wheels castings to have them.
Versions
Spine Buster has been released in the following 1/64 scale versions:
Col #
Year
Series
Color
Tampo
Base Color / Type
Window Color
Interior Color
Wheel Type
Toy #
Country
Notes / Variations
Photo
2005
AcceleRacers: Metal Maniacs
7/9
Satin Black
Red & Silver tampos, Metal Maniacs logo
Unpainted / Metal
Tinted
Chrome
CM5
G8106
Malaysia
2005
AcceleRacers: Metal Maniacs
7/9
Satin Black
Red & Silver tampos, Metal Maniacs logo
Unpainted / Metal
Tinted
Satin Silver
CM5
G8106
Malaysia
2005
AcceleRacers: Metal Maniacs
7/9
Satin Black
Red & Silver tampos, Metal Maniacs logo
Unpainted / Metal
Tinted
Chrome
CM6
G8106
Malaysia
2005
AcceleRacers: Metal Maniacs
7/9
Satin Black
Red & Silver tampos, Metal Maniacs logo
Unpainted / Metal
Tinted
Satin Silver
CM6
G8106
Malaysia
2005
AcceleRacers Video Bundle
Satin Purple
Red & Silver tampos, Black Metal Maniacs logo on front hood
Unpainted / Metal
Tinted
Chrome
CM6
G8106
Malaysia
Came bundled with a DVD copy of AcceleRacers: Breaking Point
2006
AcceleRacers: Acceleron
Rust Orange
Black, Purple & Silver tampos on top & sides
Unpainted / Metal
Purple
Chrome
CM6
J7248
Malaysia
2007
Holiday Hot Rods
Satin Green
N/A
Unpainted / Metal
Clear Yellow
Grey
5SP
M3089
Thailand
2007
Holiday Hot Rods 3-Pack
Satin Silver
N/A
Unpainted / Metal
Clear Red
Gold Chrome
Red OH5
M3089
Thailand
2009

Power Lift Garage

Red
Yellow & Orange flames, Black & Silver stripes across top
Unpainted / Metal
Tinted
Chrome
PR5
N4734
Malaysia
Base Code(s): A52
2011
Track Stunts 5-Pack
Red
Yellow, Green & Black tampos, explosions, "Prototype"
Unpainted / Metal
Tinted
Chrome
Yellow Rimmed OH5
T8627
Thailand
Base Code(s): C43, C46
2012
Multipack Exclusive
Green
Yellow, Red & Black tampos, explosions, "Prototype"
Unpainted / Metal
Tinted
Chrome
OH5 w/ Yellow rims
Thailand
Base Code(s): D19
2013
Attack Pack 5-Pack
Grey
Orange, Grey, Yellow & Black tampos, stripes & HW logo on sides
Burgundy Metalflake / Metal
Clear Orange
Black
OH5 w/ Orange Chrome rims
T8627
Thailand
Base Code(s): C43, C46
2014
Track Builder 5-Pack
Green
Black, Lime Green & Yellow stripes & flames, 'Hot Wheels Stunt Team' & '05' on sides
Unpainted / Metal
Tinted
Chrome
Black OH5 w/ White Rim (Back) & Gold Chrome 10SP (Front)
BFB27
Thailand
Base Code(s): G11
2014
Track Builder 5-Pack
Green
Black, Lime Green & Yellow stripes & flames, 'Hot Wheels Stunt Team' & '05' on sides
Unpainted / Metal
Tinted
Chrome
Black OH5 w/ White Rim (Back) & Yellow 10SP (Front)
BFB27
Thailand
Base Code(s):
2015
Spiral Stack-Up 5-Pack
Yellow
Black flame cut-outs, Black & Red stripes, 'Stunt Team' on sides
Unpainted / Metal
Tinted
Chrome
Yellow Rimmed OH5
CDT21
Thailand
Base Code(s): G48, H07
2021
Hot Wheels Monster Trucks: Monster Maker
Black
White & Orange stripes, small flame, HW logo.
/ Metal
Tinted (Orange)
Purple
Orange FTE
GWW16
Thailand
Base Code(s): N44
2021
Color Reveal
White (Warm) / Purple (Cold)
Purple Splash design, HW Logo, White Stripe design.
Unpainted / Metal
Tinted (Red)
Black
Chrome Red 5SP
GYP13
Thailand
Comes coated in orange paint
Base Code(s):
Gallery