Description
Synkro is a Hot Wheels original design. This car was driven by Nolo Pasaro (and formerly by Tone Pasaro) in Acceleracers. It was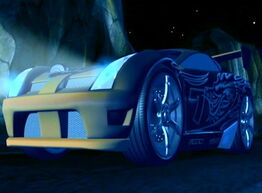 destroyed when Nolo's brother, Tone crashed. After it was rebuilt, it was dismantled by a Sweeper and RD-02 in the Metro Realm. Like any Teku car, Synkro has HID headlamps, speakers, and glossy, metal-flaked paint. This car has 3 sub woofers and 3 tweeters. Synkro has a 500hp fuel injected twin turbocharged rotary engine with BOV valves with an intercooler pushing 620ft/lb of torque to the 7 speed transmission which is synchronized in a straight line (Nolo shifted up by pushing the shifter forward and down-shifted by pulling the shifter backwards) this is what gave Synkro it's name. The 7-speed transmission and engine is what gives gives Synkro a top speed of 273 mph in 10.3 seconds. The oil filter and turbo is shown above the hood. The cockpit has a computer on the dashboard. This car has a carbon fiber body with coilovers and an aluminum monocoque chassis with 20" wheels hooked with carbon ceramic 19" ABS brakes with 8 piston calipers, allowing Synkro to stop on a dime. Like all Teku cars, this car has blue colored underglow neon. The car has 35 series rubber tires. The stereo sends 128 bit sound quality.
Starting with the 2016 No 2. Track Builder 5-Pack, the spoiler is no longer flexible and is part of the car, but in some versions, the spoiler can be back in its original version.
Apart from the engine, it has more details on the interior piece: the loudspeakers under the door (visible in the 2014 5-pack version).
Versions
The Synkro has been released in the following versions:
Coll #
Year
Series
Color
Tampo
Base Color / Type
Window Color
Interior Color
Wheel Type
Toy #
Country
Notes / Variations
Photo
2005
AcceleRacers: Teku
3/9
Orange w/ Orange wing
Teku logo on hood, "1" and dragon on sides, all in blue and black and outlined white.
Unpainted / Metal
Blue
Chrome
CM6
G8093
Malaysia
2005
AcceleRacers: Teku
3/9
Orange w / Black wing
Teku logo on hood, "1" and dragon on sides, all in blue and black and outlined white.
Unpainted / Metal
Blue
Chrome
CM6
G8093
Malaysia
2005
AcceleRacers Starter Set
Clear Green w/ Green wing
Teku logo on hood, "1" and dragon on sides, all in yellow and black and outlined white. "Teku" and other text on front and rear windows in black.
Unpainted / Metal
Blue tint
Chrome
CM6
G8728
Malaysia
2006
AcceleRacers: Team Colors
Blue w/ Orange wing
Teku logo on hood, "1" and dragon on sides, all in orange and black and outlined white.
Unpainted / Metal
Orange
Chrome
CM6
K3284
Malaysia
Playable vehicle in Hot Wheels: Beat That! (DS Version)
2006
Ultimate Track 3-Pack
Metalflake Green w/ Black wing
Black & White "8", HW logo and striping.
Unpainted / Metal
Clear
Chrome
CM6
J3558
Malaysia
2006
Holiday Hotrods
Satin Light Green w/ Gray wing
No tampos
Unpainted / Metal
Green Tint
Gray
LW
L1192
Malaysia
2008
Trick Tracks 5-Pack
Chrome w/ Black wing
Brown and Orange, Orange track loop on sides
Unpainted / Metal
Orange tint
Grey
Chrome Orange PR5
L9971
Thailand
063/190
2009
Track Stars
9/12
Red w/ Black wing
Yellow, Black & Gold lightning stripes, "8" on side and hood, white "track★" on hood
Unpainted / Metal
Tinted
Chrome
Red-Rim, Black OH5
P2383
Malaysia
New in Mainline Base Code(s): B30
239/244
2011
HW Video Game Heroes
17/22
Clear Purple w/ Black wing
Yellow, White, & Silver tampos, '5' on sides & hood
Unpainted / Metal
Clear
Chrome
J5
T9782
Malaysia
Released in Europe under Circuit Champions Series

Base Code(s): C47

199/247
2012
Thrill Racers - City Stunt
4/5
Clear Red w/ Black wing
Yellow, Black & White
Unpainted / Metal
Yellow tint
Chrome
White PR5
V5503
Malaysia
Base Code(s): E22
2013
Stunt Circuit 5-Pack
Clear Blue w/ Black wing
Yellow, Red, Black & White tampos & HW logos on sides
White
Clear
Gray
Clear Blue, Black Y5
X9849
Thailand
Base Code(s): F21
2014
Super Loop Chase Race 5-Pack
Clear Yellow w/ Black wing
White & black stripes, light blue checkers, & "46" on sides
Metalflake Blue
/
Metal
Clear
Chrome
Y5
BFB33
Thailand
Base Code(s): G41
2014
Super Loop Chase Race 5-Pack
Clear Yellow w/ Black wing
White & black stripes, light blue checkers, & "46" on sides
Metalflake Blue
/
Metal
Clear
Chrome
Blue Y5
BFB33
Thailand
Base Code(s): G41
2016
Track Builder 5-Pack
Clear Green
White, Black & Silver graphics on sides, Silver "2" & "Synkro" on sides, Black & Silver HW Logo on sides.
Unpainted / Metal
Purple
Chrome
Grey rim, Black OH5
DJD27
Malaysia
Updated tooling: wing is molded to body

Base Code(s): J20

2017
Despicable Me
5/6
Dark Blue w/ Dark Blue wing
Yellow stripe & 'Team Minion' on sides
Yellow
/
Metal
Tinted (Black)
Grey
Yellow 10SP
DWF18
Thailand
Original tooling
Base Code(s):
2018
Justice League 5-Pack
Red
"THE FLASH" on sides
Black
/
Metal
Clear
Silver
Copper Chrome Rim, Black MC5
FKT50
Indonesia
Base Code(s): K34
2021
HW Design Lab 5-Pack
White
"CREATE" and "ART" on sides along w/ blue HW logo and blue, orange, and pink tampos.
Pink
/
Metal
Light blue
Orange
Pink, white 10SP
GTN34
Indonesia
Base Code(s): N36
Gallery