This particular variation of the GP Racer casting was first used alongside the 2000 recasting of the 1999 original for the 2005 F1 season. These variants are extremely rare from personal experience - the only '05 cars I've seen on eBay are the ones on the 2000 body. Same applies for '06 - some cars had the 2000 body, others had the 2005 body. It seems the earlier one may have remained in use by mistakes, as the F1 cars are a lot rarer on the whole post-2001 with a personally estimated production run of no more than a few thousand for each team, so perhaps it remained unchecked. 2007 was the only year where this body was exclusively used, and they are all rarer then hen's teeth. I somehow lucked into a listing with 3 Ferraris (1 playworn Massa example, 1 VM/Unboxed Massa example, and 1 MIB Raikkonen example), found 1 Hamilton McLaren with a missing front axle MIB (possibly faked) and passed it by.
As of August 2019, these are the cars I have yet to collect. The Ferrari, McLaren and Williams for 2005 that I own are all on the 2000 body. I have been searching since December 2016.
And as proof both bodies were used interchangeably, here's the 2006 McLaren: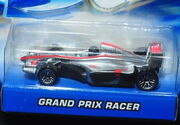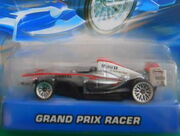 AlexGRFan97 (talk) 12:45, August 15, 2019 (UTC)
Community content is available under
CC-BY-SA
unless otherwise noted.