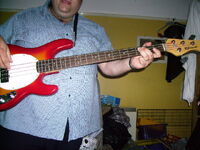 My name is Simon Beck, and I live in London, England with my wife Karen and our two children. In 1968 I was 7 years old and living in America, so I was in at the beginning! I had a gold Deora and I think my younger brother Stephen had a purple Beatnik Bandit - those would be worth something these days! I also remember the Hot Wheels TV series...
Today I live Hot Wheels vicariously through my two sons Thomas (1999) and William (2002) and their growing collections of recent vehicles.
My other interests include:
Playing and recording music, mostly blues (I play piano, electric piano, organ, bass guitar, rhythm guitar and chromatic harmonica) but I recently joined a ska/funk band on keyboards
Cooking - nothing fancy, mostly wholesome family dishes such as risotto, pasta bakes and stews. I do a mean chili con carne...
Computer graphics. I run my own graphic design and website consultancy, AlphaBeck
Community content is available under
CC-BY-SA
unless otherwise noted.