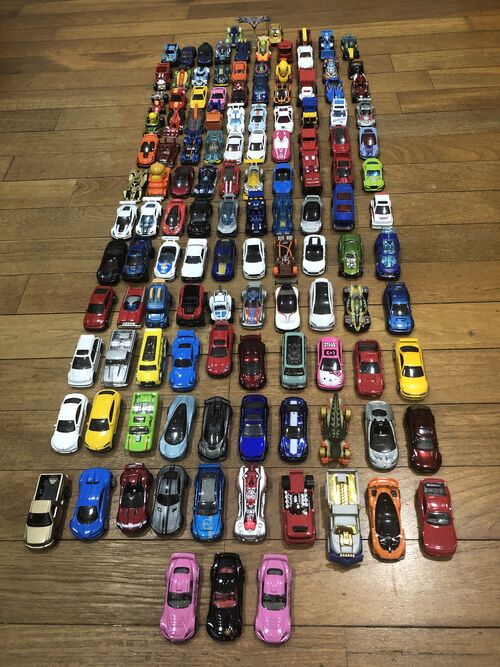 Thank you, Ryu.

Hi. Grunty89 here, a casual collector of Hot Wheels cars. I've been collecting since 2003, and I'm usually snooping around town looking at base copyrights mainly to see and find tooling changes. As such, most of my edits around this wiki are based around tooling changes. Designer information is also very important to me.
Some info about my collection...
Favorite
Casting(s): Velocita, Hi-Tech Missile, Quick n' Sik, Wattzup, Rev Rod, Two Timer, Cloak and Dagger, Clear Speeder, Rivited, Trak-Tune, Tee'd Off 2, LaFerrari, Ballistik, Driftsta, Bullet Proof, Aston Martin 1963 DB5, Tooligan, Twin Mill III, Circle Tracker, '71 El Camino, Custom '10 Camaro SS, Chevy Camaro Concept, Blitzspeeder, Fast Fish, Pony-Up, Futurismo, Sky Dome, El Viento, Paradigm Shift, HW Pursuit, Aston Martin DB10, Nissan Concept 2020 Vision GT, '08 Viper SRT10 ACR, Time Tracker, '14 Corvette Stingray, Blown Camaro, Chevy Blazer 4×4, Phastasm, The Midas Monkey, Rig Heat, Custom '56 Ford Truck, UNSC Warthog, Track Hammer, 'Tooned '69 Camaro Z28, Jaded, Rally Cat, Solid Muscle, Canyon Carver, Track Ripper, Enzo Ferrari, '57 Chevy, Ford GT LM, King 'Kuda, Impavido 1, i-Believe, Lamborghini Gallardo LP 570-4 Superleggera, Split Window '63
Retired casting(s) that I own (was in Final Run Series or has not been seen in the basics in recent years or at all): Mini Truck, Ettorium, Hyper Mite, Astro Funk, Sir Ominous, Sinistra, Spine Buster, Flathead Fury, Seared Tuner, Metaloid, Tantrum, Technetium, HW Prototype 12, Roll Cage, Super Gnat, Asphalt Assault, Dixie Challenger, Brick Cutter, Crooze Ooz Coupe, Krazy 8s, Rapid Transit, Torque Screw, Silhouette II, Hi I.Q., Brutalistic, Baja Bug, Firestorm, Volkswagen Karmann Ghia, RocketFire, Drift Tech, Bassline, MS-T Suzuka, Batpod, Covelight, Arachnorod, Race Bait 308, Lamborghini Diablo, X-Raycers Ferrari 360 Modena, Skullrider, F-Racer, Rat-ified, Semi-Psycho, Dogfighter, Custom Cougar, Mercedes C-Class, Bugatti Veyron, McLaren F1 GTR, Datsun 240Z, Split Decision, Backdraft, Mercy Breaker, Mid Drift, Road Rocket, Swoopy Do, Thomassima 3, Motoblade, Speed Blaster, Nissan Z, Phantom Racer, Reverb, Furiosity, Out-A-Line, Flashfire, Turbo Flame, AMG-Mercedes CLK DTM, Nissan Silvia S15
Misc.
Castings I want to own: N/A
First car: Golden Arrow (2003 First Editions, orange, 10SP wheels)
Favorite castings (not in order of most favorite to least)
(note: Heavyweight means metal body, metal base; makes it heavier than other cars)
Other
Community content is available under
CC-BY-SA
unless otherwise noted.