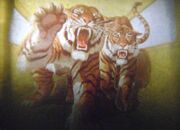 Big Hot Wheels collector. Also collect other diecast brands beyond Hot Wheels. I used to have a lot of Hot Wheels as a kid, around when I was 2 or 3 years old (I'm 21 now). Unfortunately, they got sold a decade ago, and I have been missing them ever since.
Thanks to a popular Hot Wheels collector on YouTube, and a friend of mine, I restarted collecting back in September 2012 and I have never looked back. I own thousands of cars now, the majority of them beaters or ones in not in exceptional shape (I'm not rich!), but I do have a good chunk of mint ones.
For Hot Wheels, have cars from 1968 up to 2013. Also have a lot of rare ones, such as the Herfy's promos, Thrill Driver's Torino Stockers, and Motocross Super Vans.
I do collect 1:64th scale diecast beyond Hot Wheels too, such as Matchbox, Corgi, Husky, Majorette, Tomica, and other odds-and-ends brands. Collect what you like!
PS: You will see me active on the "recent edits" list a lot from time to time.  I'm cataloging my Hot Wheels collection at the current time, and in the process (mostly due to my OCD), I am editing the pages for neatness as I go along. Correcting typos, article formatting, and rewriting description text, if needed, to make it more clear and concise (people who like to write in run-on sentences a lot here). It may look like I'm randomly picking models, because I am, kind of.  I'm just scooping a handful out of my box, and cataloging 10 at a time.
As of April 2017 I am no longer bothering to edit and tidy up pages due to a particular admin constantly undoing every change I have done from the past year of editing, and claiming I am "messing up pages" (he has mysteriously deleted this conversation from his talk page) even though he has been punished by the admins several times for incorrectly editing and breaking pages everywhere.
SeberHusky 09:52, December 7, 2013 (UTC)
Edited: 20:57, November 18, 2017 (UTC)
Community content is available under
CC-BY-SA
unless otherwise noted.