SyndicateOfSpeed\JAWS Custom Car Garage!
I love Hot Wheels and have been collecting since I was about 4. I am 15 years old and live in Canada! Here, we get a HUGE inventory of cars, but at the cost of a slow update rate, meaning we ALL get the cars we want, we just get them a few months later than America! I LOVE Muscle,Exotics,Super Cars and Sports Cars. I hate tuner cars. Mostly I customize my cars. If I find one that I really like, Ill buy 2 so that I can see what the original looks like.I think that (and know) that the Hot Wheels are to enjoy, rather than to sit in a box in somebody's basement for 8 years, just to be sold for a profit of 50 cents. That's why ALL my cars are stored in my special custom display case(s)!.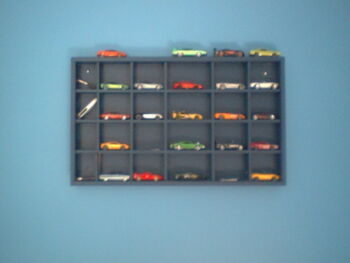 .
Also, below I'll show you how to customize a car like I do!CHECK OUT THE SLIDESHOW OF MY CUSTOM CARS. Many racers (real ones) use both legal and illegal performance and handling upgrades on their cars. Here are some. LEGAL: Harder springs, Bigger intake, weight removal and racing tires.
                                            CREATE YOU'RE OWN CUSTOM RIDES! ==

HOW TO CREATE A CUSTOM CAR...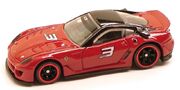 1.First, cut open or drill open the car, do this by dlilling or cutting out the rivets with a sharp knife or small drillbit,
2.Cut the wheel clasps off and replace the wheels if you like. You can even change the wheels size sometimes!
3.You can tint the windows with a new Sharpie marker. Just color the window to tint it!
4.Buy some silver model paint to paint the headlights, grills, exaust pipes and chassis components.
5.Buy some red paint to paint the the brake lights.
6.You can get accessories off other cars such as airscoops, side exhausts and spiolers. Just glue these on with some crazy glue.
7.If you like, you can sand and paint the car's body. Nail polish works great.
8.Re-assemble the car and glue it together with some crazy glue.
NOW YOU HAVE A UNIQUE CUSTOM RIDE!!!
CHECK OUT MY BEST CUSTOMS!
Community content is available under
CC-BY-SA
unless otherwise noted.