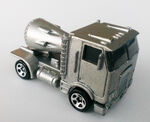 The origin of my interest in collecting was when I began collecting the actual cars from the game Hot Wheels: Turbo Racing. Since then, I have collected cars for several other games and, when needed, have created custom versions to match the game version. With Hot Wheels: Track Attack, I became interested in collecting variants. I don't typically collect Hot Wheels versions of actual cars, but I made an exception with the Mazda RX-7 because the first car I drove was a '79 RX-7. My whole collection is loose & stored in the plastic Tara Hot Wheels 48-car cases.
Main
Last Updated: 2/6/2017
Community content is available under
CC-BY-SA
unless otherwise noted.