Speed Cycles
As a collector of many Obscure oddities Hot Wheels wise, I stumbled upon a couple of 1/64 Motorcycles meant for the track named Speed Cycles. I created a page that will document every casting and variation of the series. Issue is, I only have a couple, and the extra cycles are from the motorcycles that appear on the back blisters, but beyond that, you can see on other sites that there are a ton of other cycles and different variation. Will need the help adding anything more info you can find!

Sval9500 (talk) 3:35 pm February 20, 2021(UTC)
Images of various things
Hey I see you have some Formula Fuelers, Motorized X-V Racers, and Speed Chargers if you could get pictures of these that would be great if you can. You have a very impressive collection of stuff, love all the obscure things! I collect obscure Hot Wheels products has well. MazdaL10B (talk) 02:09, 9 March 2021 (UTC)

Thank you! Yes I do have that stuff and a bit more. I am very new to the site, my account is not a month old and Im still new to certain things on the site. Not even sure if Im doing this "talk" right lol. Because of my busy schedule I cant do everything in one night but I do have a schedule of trying to go through 3 cases of loose die cast cars a week (I have alot of cases). I know for a fact I have some Motorized X-V Racers and 1 Speed Chargers (and orange Chicane) in some case and will eventually upload pics of them whenever I randomly get to that case.
Its kinda the annoying thing to collect oddities when you only have a few on hand out of the many that came out. And to find the rest is more difficult than finding redlines/ super thunts. At the same time the thrill of the hunt is what makes it exciting even more. Kinda like finding "Lost Media"
But in the meantime I got a quick question, would you find it reasonable to posts pics of the cars displayed on the back of the blisters? I would think its ok just to fill up space and information of what exists within the series (can be replaced when the real thing is found). At a same time I can understand that its more "ethical" to take pics of what you actually have on hand. Just wondering.
Sval9500 (Sval9500) 03:29, 9 March 2021 (UTC)
Using images from the back of packages is ok has a placeholder until pictures of actual models can be used. MazdaL10B (talk) 04:49, 9 March 2021 (UTC)

What do you know!! Its a new week and I randomly picked 3 new cases, sure enough one of the cases has what I believe 90% of my Motorized X-V Racers and a bunch of other random Hot Wheels stuff. Will go through the cases soon, I see alot of people have already posted in Motorized X-V Racers. Have a bunch of images from last week that I have been slackin on to post.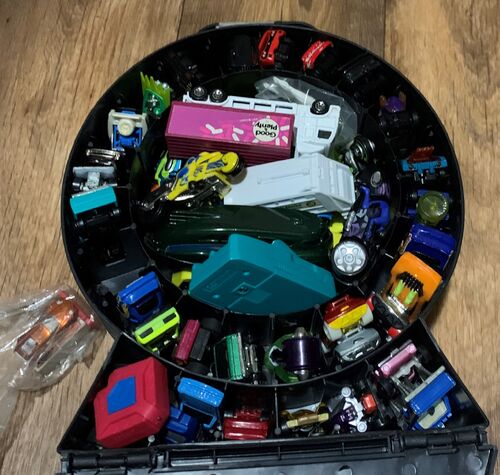 In the meantime another quick question. On the Motorized X-V Racers page, every side series related to in on the page. I like that. But Xtreme Skateboarders is in Motorized X-V Racers, and X-V Xtreme Skatepark is on a different site. Is there a difference? If not, what does one properly do to delete the un used paged so that there will be a less misunderstanding. Likewise same thing for Ferrari X-V and Motorized Kart Maniax, to combined them on the Motorized X-V Racers page and delete the original page Sorry still new here :P
One last tid bit. If you have some Motorized X-V Racers such as I, but want a cool track to work with them, but don't want to buy the pricey vintage X-V tracks, Id suggest you check out the [NASCAR Force Crash Racers Figure 8 Circuit]. There are other different circuits, but this one I find alot at my local Walmarts. Yes, its not Hot Wheels brand (so ban me lol). But for an affordable price for some good track pieces and 2 cars that are the same setup as a HW Motorized X-V Racers Id say its a good deal.
Sorry. bit of a talker but thats all.
Sval9500 (Sval9500) 02:36, 14 March 2021 (UTC)
Hot Wheels RC
I think it is a good idea to create separate pages for the RC versions rather than on the main casting pages. Because the toolings are different from the main versions. Combatbot2015 (talk) 03:36, 29 March 2021 (UTC)
Thank you, I did create a separate page for the Hot Wheels RCcars. And I do appreciate your opinion and any other collectors on these cars. I was a bit uncertain as the cars would need to be modified to accommodate for RC mechanics. But the body/ casting/ mold is the same as the mainline versions. Just the chassis/ base has been modified. That's what makes these 1/64 car unique is that you can have your favorite castings with a remote controlled function. I'm not talking about McDonald's cars where the retooling is so cheaply made that its practically a new car. The cars are literally the same, but modified slightly.
To say the Hot Wheels RC cars are not the same is to argue that the Hot Wheels id are not the same, as the cars are modified to carry the chip inside, and some of the castings, like the '17 Nissan GT-R (R35) have been modified with an upper chin to become more track friendly.
So hmmm what to do... Making a separate site for each RC car seems more complicated then it needs to be for the reasons above. I was thinking about meeting in the middle where on the main versions page there is a "RC Version tooling". Kinda like how Rodger Dodger has a "Original Version", "1st Retool", "2nd Retool". But again that seems more complicated.
If it settles the argument, I can post pictures of an Hot Wheels RC'17 Nissan GT-R (R35)to a normal mainline '17 Nissan GT-R (R35) so that they can be compared for the differences and similarities.
Your thoughts most appreciated.
Sval9500 (Sval9500) 13:14, 29 March 2021 (UTC)
FYI the only unknown is the Tesla Cybertruck as the mainline version has not been release. But considering that I haven't seen any new prototype molds for the Tesla Cybertruck, and I believe they use the same mainline castings for the Hot Wheels RC cars, I believe they are going to use the Hot Wheels RCTesla Cybertruck casting, and then modify it with a normal mainline chassis.
Sval9500 (Sval9500) 13:20, 29 March 2021 (UTC)
I still think the RC versions still receive their own casting pages. Because the toolings are not the same as the mainline versions as explained in my talk page. Combatbot2015 (talk) 18:23, 16 April 2021 (UTC)
Pro Racing
It's taken me until now to read your profile, and I agree completely with what you said about how poorly documented the pro racing series is. That's what made me start collecting them as well, though you're way ahead of me. I thought I'd let you know that whenever I get the time I intend to update the formatting of the 1999 to 2005 pages like I did with the 1997-1998 ones, to make them all nice. So we'll probably be working together on this.
_______________________________________________________________________________________________________________________________
Thank you, its great to meet someone else thats into this obscure line. It definitely needs alot of work, from finding many vague variation, to no mentions of some highly rare variations, to missing castings, or someone simply not copying the Pro Racing variation onto the casting, etc., its going to be awhile. As I make these edits, I also keep in contact with Tich3e whos been a good friend and we have both helped each other out on this line.
If you dont mind please check out my Links that I created and any reasonable edits feel free to make. If your about to delete any cars/ variations, like your most recent edit on the 1999 Basic Pro Racing Line I ask you simply contact me first before making such an edit. I base my finding on ebay listings and as crazy and confusing as it is, between 1999-2001 there is like 4 different Talladega Pontiac Stockers (Basic). Good Grief! As far as the 1999 30th Talladega car you deleted off, if you check on ebay, you can easily find it. I have pictures of it, but you caught me at a bad time as Im about to go to work.
I hope to hear from you again soon, and let fix this line up!
FYI I have been busy myself. I added the 98 Track Edition because I had some cars from that year that didnt match up with the cars that where on the 1998 line. Going through ebay, the first matches I made was the Pro Racing Track Edition which is basically those cars in a black box. It was only when I finally completed the list that I realized that the 1998 line had a "Preview Series" and it seemed that the Track edition line takes a little bit from every segment line of that year. So if you wish, go through the 1998 Preview line, and see what you can find. Focus on the decals/ sponsors on the cars as they tend to not match with the 1998 Pro Racing 1st Edition
Thank you!
Sval9500 (Sval9500) 12:54, 29 April 2021 (UTC)
Just to make my point, I had to fish for it but here my 1999 Talladega car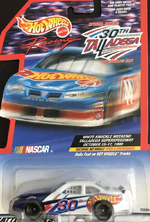 So again before deleting any car please contact me before making the edit. Thank you!
Sval9500 (Sval9500) 2:19, 29 April 2021 (UTC)
McDonald's Motoblade
The page has been created. Combatbot2015 (talk) 18:33, 22 May 2021 (UTC)
With regards to 2005 Posters
Hey Stan, a current focal point of my designer research is with regards to that of the Hot Wheels design team from around that time. Would it be possible for you to take photographs of the cars each of the segments (Realistix, AcceleRacers, Torpedoes, Blings etc., minus the regular mainlines)? I'm currently trying to hunt down the designers of some of these castings and am also trying to clear additional misconceptions and such; if you wish to reply you can do so here or on my talk page instead. Thank you in advance.   Grunty89 |Let's talk about that. 

04:28, 16 August 2021 (UTC)
Short answer, yes definitely.
I understand that a picture of the poster alone does not do justice so I do take individual pictures of each car. I just need a good picture of the poster so viewers/ collectors can identify which poster these prototypes came from. Last night I finally got done with the 1995 Poster, I posted the picture for the 2005 Poster, and I called it a night. But yes I already took pictures of each car on the poster, Im going through them right now. Im realizing there are more prototypes on the 2005 poster than expected. We are talking wheels that where never on the final version, lack of tampo details, extra tampos, and windows simply painted on. Its funny to see these cars in their prototype stage. There is also a bunch of artist sketches for some of the cars. I dont plan on posting the sketches in the Prototype Posters since they are not in the physical stage, but I do plan on going through each casting article to see if the drawings have already been posted.
I also have the 1999 Poster that Ill post once Im done with 2005
It would be helpful if you could search on say ebay for Ex:"hot wheels 1996 poster". You can find so many of these Prototype Posters by different years showing different cars / variations for roughly $10 each. They are pretty cool to own and show off, but more importantly post on the wiki.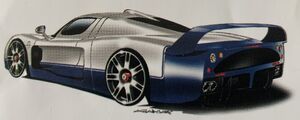 Sval9500 (Sval9500) 12:30, 16 August 2021 (UTC)
I definitely have actually. The reason why I'm specifically asking for '05 is because there are no good zoomed in photos and what not; eBay has one and has had one for what's basically centuries but you get the idea.   Grunty89 |Let's talk about that.  22:20, 16 August 2021 (UTC)
Of course. And Im about to post some of them for the day. In the meantime, if you have some of the other years Prototype Posters feel free to post them on the article. Would love to see clearer pictures of what was on them.
Sval9500 (Sval9500) 00:33, 17 August 2021 (UTC)
I myself don't have too terribly many posters apart from an extremely small 2007 one. I do also have a 2003 Collector Booklet so I might scan stuff from there although there aren't very many photographs of concept art.   Grunty89 |Let's talk about that.  02:29, 17 August 2021 (UTC)
Anything will work. Would like to see what you find. So I went through all the pictures of the car drawings, deleted the pictures of drawings already on the wiki, and just got done posting them all. The only one I currently have not posted is the concept art for Reverb (2005). After taking pictures of all the cars, after going through all the cars to delete the ones already on the wiki, cropped the images, I realized the concept art for Reverb (2005) has a big black hair on it :P So I retook the image and it will be posted on a later date.
As for the concept art I posted, I did my best to take the picture, but I do apologize with the poster creases showing up.
And interesting the '67 Chevy II (Blings) already had concept art posted. But my image is the same drawing but in orange And with the designers name.
Im going to post maybe a car or two under the 2005 Poster and then leave the other 50 cars for later.
Sval9500 (Sval9500) 02:46, 17 August 2021 (UTC)
Potentially something of interest
I found something on ebay you may be interested in. It seems to be a prototype for the 100% version of the Pontiac Grand Prix stocker, that came from Larry Wood's collection. https://www.ebay.com/itm/274947048500?hash=item40041f0434:g:UboAAOSw-B1hQSf1 I'm interested in it too, but with 6 days left on the auction it may go way up in price.Hunter12396 (talk) 01:18, 16 September 2021 (UTC)

Thank you for sharing. Though that is interesting, I'll pass and wish you the best of luck. There is a prototype that I'm looking for, but I can't go into details and share pics because I have no idea what's going on with The Hot Wheels Wiki but I can't log into my account. I'm literally typing this on my phone, and what you can do off your phone is limited. That's a shame, because a lot has gone on recently. From finally getting that #1 Pontiac Grand Prix, to finding other cars related to the Hot Wheels Pro Racing series, there was a bit I wanted to cover but I can't off a phone.
oh got a bit side tracked. There is a pic of the prototype that I'm looking for. If you go to the Taurus Stocker (2000) page, in the images you will see an Oil can of the #17 car. But if you look closely you will notice that it's got an opening hood and better details than the actual Oil can cars. This suggests a big thing, by 2004 they retooled the Ford Taurus Stocker, so more than likely the car you see in the image is not the Ford Taurus 100% stocker but a brand new 100% casting (in theory of course).
I know I saw a Pfizer one and regret not getting it due to my budget. I spent hours on the internet just to find the image to prove its existence. So if you see something like that please hit me up.
in the meantime hopefully the bugs will get fixed and I'll respond with better details soon. Thanks

Sval9500 (talk) 02:01, September 15, 2021 (UTC)
Guess whos back!So after talking with IT for Fandom they fixed the issues. So talking about prototype cars this was the image I was talking about. This would be a prototype that id be on the lookout for.
But in the meantime I am watching the infamousKodak 57 Chevy right here:
https://www.ebay.com/itm/203600521243
Sval9500 (talk) 09:14, September 16, 2021 (UTC)
Unknown Robo Wheels car
Got this Robo Wheels car recently, its not on the poster shown on the page you made, maybe you saw where it was from in your research on those? Looks a bit different from the others, has a 1 piece body and the figure must have been separate has its missing. MazdaL10B (talk) 08:01, 23 October 2021 (UTC)
---
hmmm thats really interesting and Ive never seen it. where did you get it from? A lot on ebay, a thrift store, just asking cus maybe the seller would have an idea of where it came from. Ill be honest, a part of me does not think its from the Robo Wheels series. Though it does you the same chassis part, something is telling me that its from some different set. ive never seen wheels like that on the Robo Wheels. And in a design perspective, having a one piece body would not be great for a transforming robot.
Can you send a picture of the bottom of the base? It might offer a clue. Mid 2000s Hot Wheels logo changed alot and depending on which HW logo is used might narrow down the year.
Using that year we can start looking at sets and tracks. Ive got a vague feeling that this car exclusively came from a set. Kinda like the Unnamed Versus Car came exclusively from the Hot Wheels Versus set. The late 90s to mid 2000s saw alot of experimental tracks that used exclusive cars in order to create "the fastest car that can overcome any track". Kinda like Tech Trax or Top Speed. So look for a track set from the mid 2000s that came with cars that are super fast and easily crashed (thus the one piece body coming off). I hope that points you in the right direction.
I did a quick search myself and didnt find anything. But thats what the hunt is all about. Thanks for sharing.

Sval9500 (talk) 13:19, October 23, 2021 (UTC)

Here is a base pic, got to be Robo Wheels related, uses the same type 5SP and has Bandi on the base.
MazdaL10B (talk) 19:28, 23 October 2021 (UTC)
Thanks you for sharing! It does help out. I do see the Bandai/ Plex logo, I see 2001 with the early 2000s Hot Wheels logo. It helps.
But im still having a hard time trying to find this guy. Yes the Robo Wheels had 5SP but none of them had the yellow markings on the wheels like your car has. I have been trying to search for the past 30mins, and though Ive found a couple of robots that Idk if I have on the Robo Wheels article, not one of them had a single body piece. All the robot have 2 body pieces for the arms.
Believe me i have been looking for the past hour and haven't seen anything close. I looked up Robo Wheels Track sets, Yellow Bandai cars, and just about everything in between and I haven't found anything to confirm its from the Robo Wheels or its existence. I did find this interesting | link, though buggy, which shows the possibility of a fake knock off.
But for now, Ill add the pictures of your car under the Robo Wheels article in hopes that more viewers will see the car and come with an answer. If you happen to find where the car originally came from, I would love to know.
Sval9500 (talk) 03:19, October 24, 2021 (UTC)